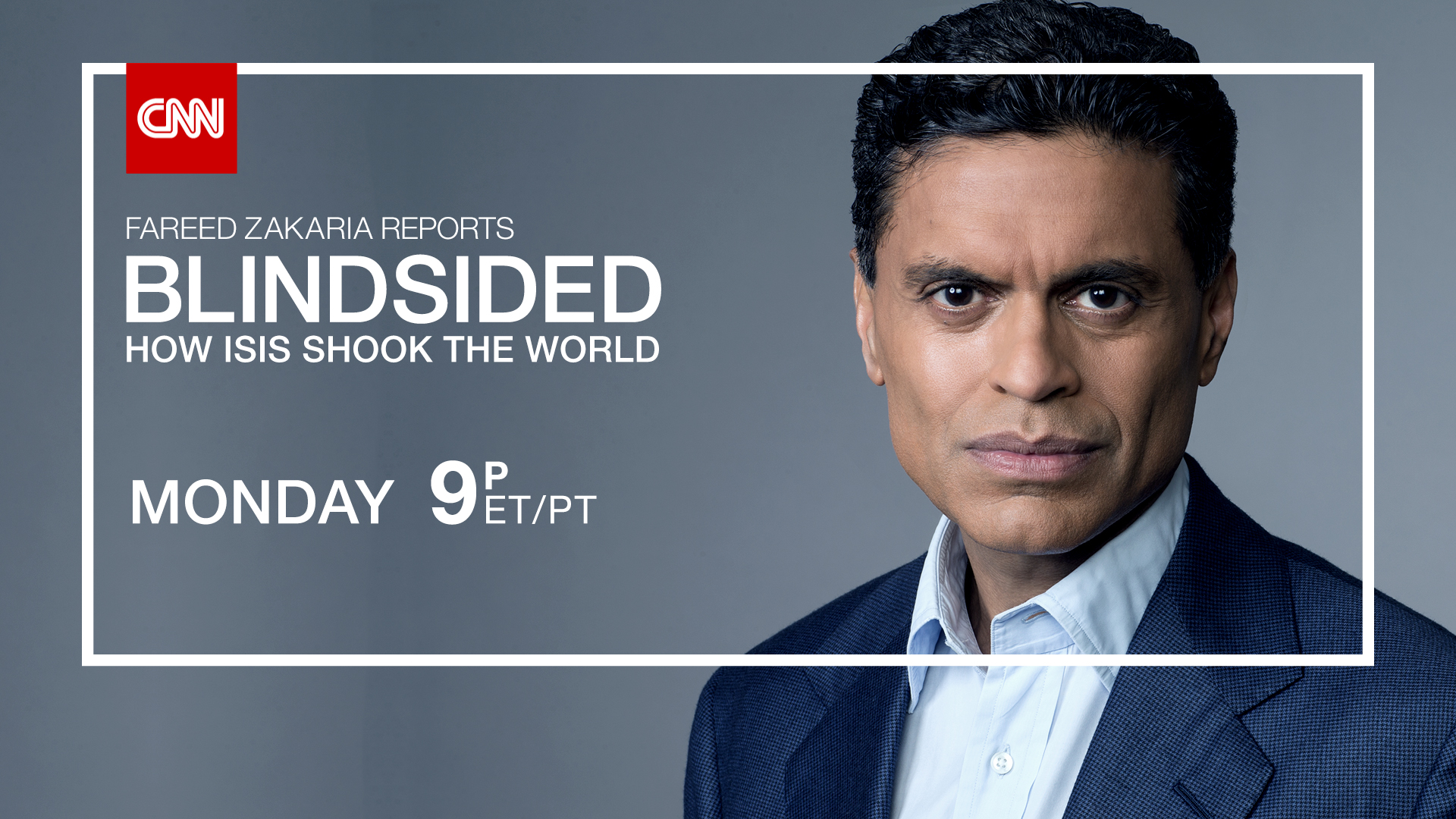 CNN Special Programming & Documentaries
April 24th, 2015
CNN's Fareed Zakaria Hosts 'Blindsided: How ISIS Shook the World' for Monday, May 11
Special Premieres on CNN/U.S. and CNN International at 9:00pm Eastern
CNN's Fareed Zakaria explores the origins of the terror group known as Islamic State or 'ISIS' for a rare inside look into the heart of darkness, and an examination of how and when the U.S. came to know about ISIS.  The one-hour special, Blindsided: How ISIS Shook the World, will premiere Monday, May 11 at 9:00pm and 12:00am Eastern on CNN/U.S..  Blindsided will air on Monday, May 11 at 9:00pm and on Tuesday, May 12 at 7:00am and 5:00pm Eastern on CNN International.
Despite the terrible beheadings of journalists, German journalist Jurgen Todenhofer crossed the border into Mosul, Iraq, in 2014.  In rare footage, Todenhofer shows what life is like in ISIS-held territory.  ISIS governance is both frightening and mundane – including ISIS-issued license plates, parking tickets, and other trappings of everyday life.
Among the most astonishing things we learn: the ISIS objective of luring the West into a grand battle.  The terror group wants its unique vision of a caliphate – and American boots on the ground in combat.
Deputy National Security Advisor for strategic communication Ben Rhodes; a former Islamist who founded a British counter-extremism think tank and is now running for the U.K. Parliament, Maajid Nawaz; former director of the U.S. Defense Intelligence Agency, Lt. General Michael Flynn; Middle East expert and London School of Economics professor of international relations Fawaz Gerges; former FBI agent Ali Soufan; and others discuss how ISIS grew to become a transnational terror organization, how it recruits followers, what is being done to try to stop it – and what does and doesn't seem to be working.  Zakaria's analysis will give viewers a sense of the direct threat ISIS presents for U.S. national security and the U.S. homeland.
###