Nima Elbagir
April 20th, 2015
CNN Honored with Two Peabody Awards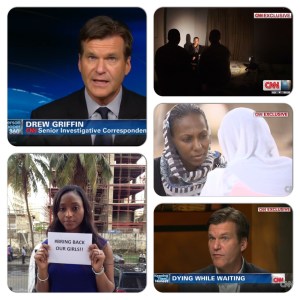 CNN has been honored with two prestigious Peabody Awards. The judges commended CNN's Coverage of the Kidnapped Nigerian School Girls and CNN Investigative Reports: Crisis at the VA.
The judges' citations of CNN's reporting:
CNN's Coverage of Kidnapped Nigerian Schoolgirls
CNN approached the Boko Haram kidnapping horror from many angles, even moving Isha Sesay's daily show to Abuja to raise the profile of the #BringBackOurGirls campaign. Sesay's tough, live-TV interviewing, along with high-risk field reporting of Nima Elbagir, Arwa Damon and other CNN journalists, made the network's coverage comprehensive and indispensable.
CNN Investigative Reports: Crisis at the VA High-impact journalism, CNN's investigation into delays in care at Veteran Affairs hospitals exposed a systemic VA breakdown, eventually leading to the resignation of VA Secretary Eric Shinseki, the passage of federal legislation, and a dramatic change in how veterans' medical appointments are made, recorded and reported.