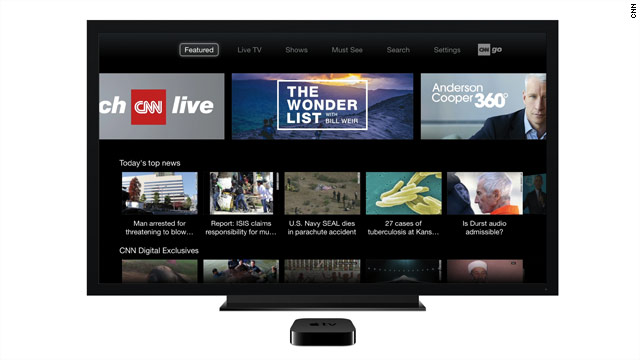 CNNgo
March 25th, 2015
CNNgo Launches on Apple TV
CNN announced today the availability of CNNgo on Apple TV.  As part of the industry-wide TV Everywhere initiative, CNNgo is now available in more than 86 million homes and to participating TV providers on Apple TV devices.
The CNNgo experience on Apple TV features the largest collection of CNN's on-demand content to date.  Pay-TV customers can log in with their user name and password for access to Live TV and Shows, such as CNN Original Series Anthony Bourdain Parts Unknown, Finding Jesus, Mike Rowe's Sombody's Gotta Do It, Morgan Spurlock Inside Man, This is Life with Lisa Ling, The Wonder List with Bill Weir and Anderson Cooper's nightly news program, AC 360°.  All users of Apple TV can enjoy a collection of hand-curated clips by topic – from world and politics to entertainment and tech – in the Must See section.
"CNNgo on Apple TV brings together our live CNN TV simulcast and deep library of original films, franchises and short-form video in a powerful, on-demand way unlike any product we've launched to date," said CNN's Chief Product Officer Alex Wellen.  "Apple TV is the first critical platform in our digital strategy to reimagine the TV news experience." 
This marks the first Turner brand to launch on Apple TV.  CNNgo's launch on Apple TV joins CNN's current offerings on CNN.com and on the CNN App for iPad.  CNNgo is a next-generation product that gives viewers unprecedented control over their TV news experience through TV Everywhere.
"The availability of CNNgo on Apple TV marks the evolution of our TV Everywhere strategy to expand to more devices and platforms," said John Harran, senior vice president, business and product development for Turner Network Sales (TNS), the domestic distribution, sales and marketing arm of Turner Broadcasting System, Inc. "As part of our overall strategy, Turner is looking forward to creating additional, exclusive viewing experiences for consumers that help drive home the value of a pay-TV subscription."
About TV Everywhere
CNN Worldwide was the first U.S. news organization to stream its full CNN and HLN networks online and on Apple devices in real-time, including commercials. CNN's TV Everywhere option is available in over 86 million homes and with more than 320 distribution partners.  In 2014, 13.2 million hours of CNN TV content were consumed via the TVE platform.  (Source: Adobe, Bango 2014)
###