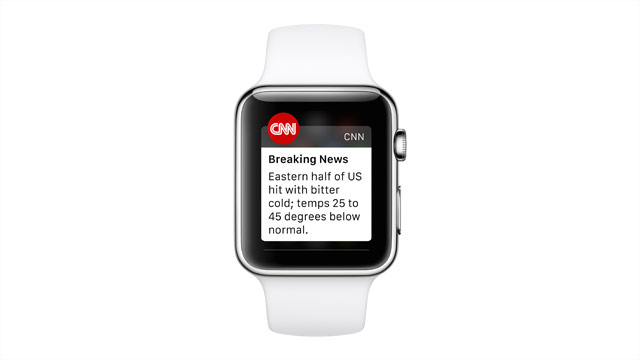 CNN Digital
March 9th, 2015
CNN is on Apple Watch
We're on your TV, MacBook, iPad and phone.  Now Apple enthusiasts rejoice — you can get CNN right on your wrist!
CNN is excited to be one of the apps users can experience when Apple Watch hits the streets on April 24.  Users will get up-to-the-minute breaking news across 12 personalized categories – from Top Stories and Health to Entertainment and Politics.
"The CNN app on Apple Watch is our most personal product to date, and a true game changer," said CNN Chief Product Officer Alex Wellen.  "It enables us to deliver news and critical notifications in an intuitive, intimate, and wholly innovative way.  We're thrilled to work with Apple to pioneer this experience in the news space."
Apple Watch offers users an innovative way to engage with CNN content. Tap to open a story. Then choose to save it or continue reading on your phone. You can even launch live CNN TV on your phone, right from your watch.
More to come…