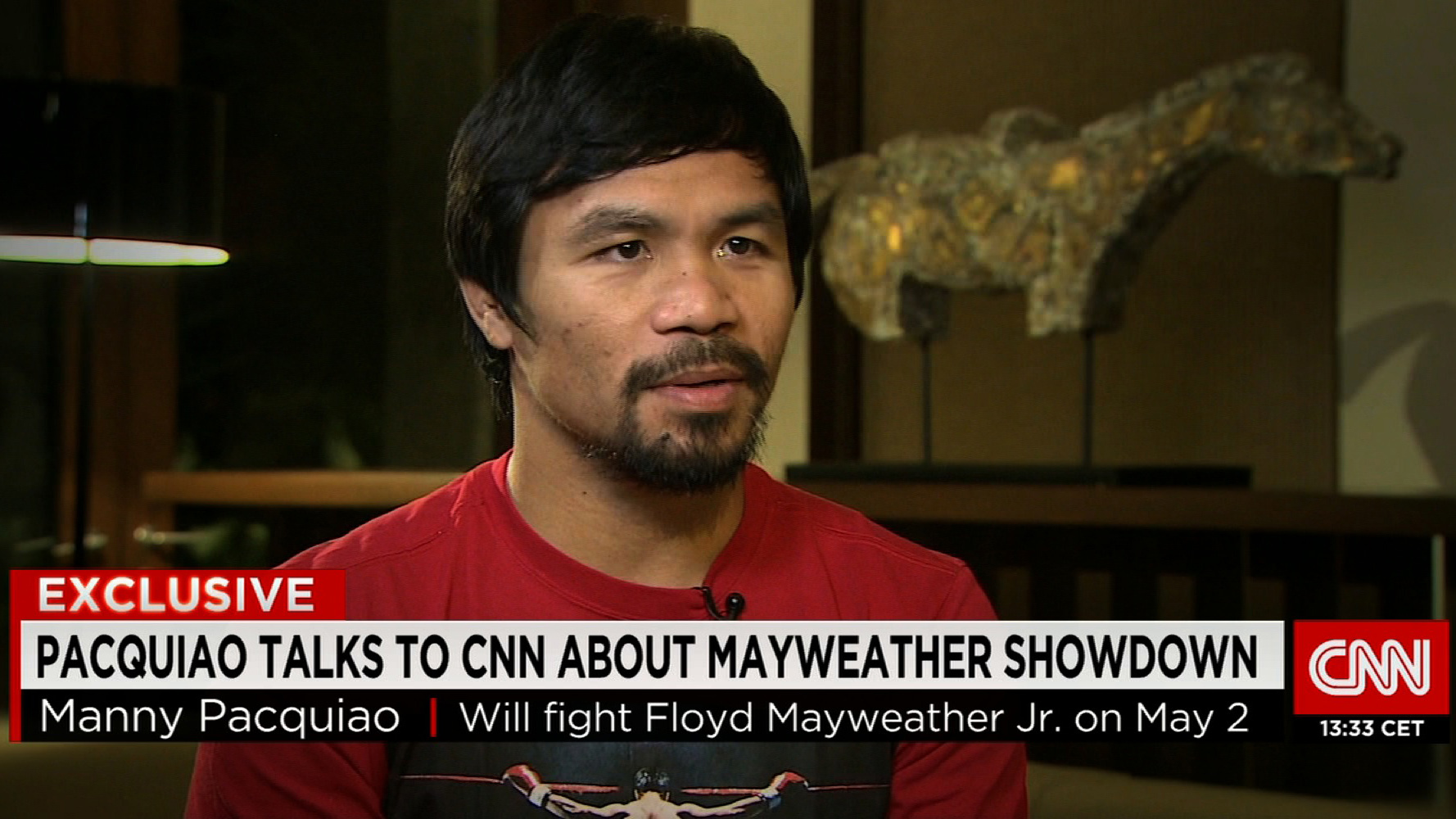 World Sport
March 3rd, 2015
CNN Exclusive: Manny Pacquiao on Floyd Mayweather Jr. showdown
In an exclusive interview, world champion Filipino boxer Manny Pacquiao tells CNN his eldest children are most excited about his upcoming bout with Floyd Mayweather Jr., saying they would be on the "front row" at the Las Vegas showdown on May 2.
"My son and my daughter, they really wanted this fight to happen…Three years ago [they said] 'Daddy, I want you to fight Mayweather. I want you to fight Mayweather.' I said, 'Why? It's not my fault. He doesn't want to fight.' And now finally now it finally happened. They really, really want to watch the fight."
Sitting down with CNN's Ivan Watson at his home in Manila, the 36-year-old Pacquiao acknowledges the momentous nature of the clash.
"I can say [this will be] one of the most important fights in my career. [It] has been five years in the making…and finally it's happening. I think the fans deserve it."
It's estimated the May 2 bout will break all financial records in the history of professional boxing. Pacquiao himself is believed to be earning around $80 million for the fight.
Asked how the whopping paycheck makes him feel, Pacquiao replies "I feel blessed and I owe a lot to the fans. First to God but also the fans because of their support."
Despite being a multi-millionaire and superstar, Pacquiao says he and his wife are trying to teach their children to appreciate the life of comfort they now enjoy. To prove the point, he says he transferred his children from an academy for international students to a school with no air conditioning.
"I want them to experience, so they can meet hungry families…so they will not mistreat other people or treat other people different."