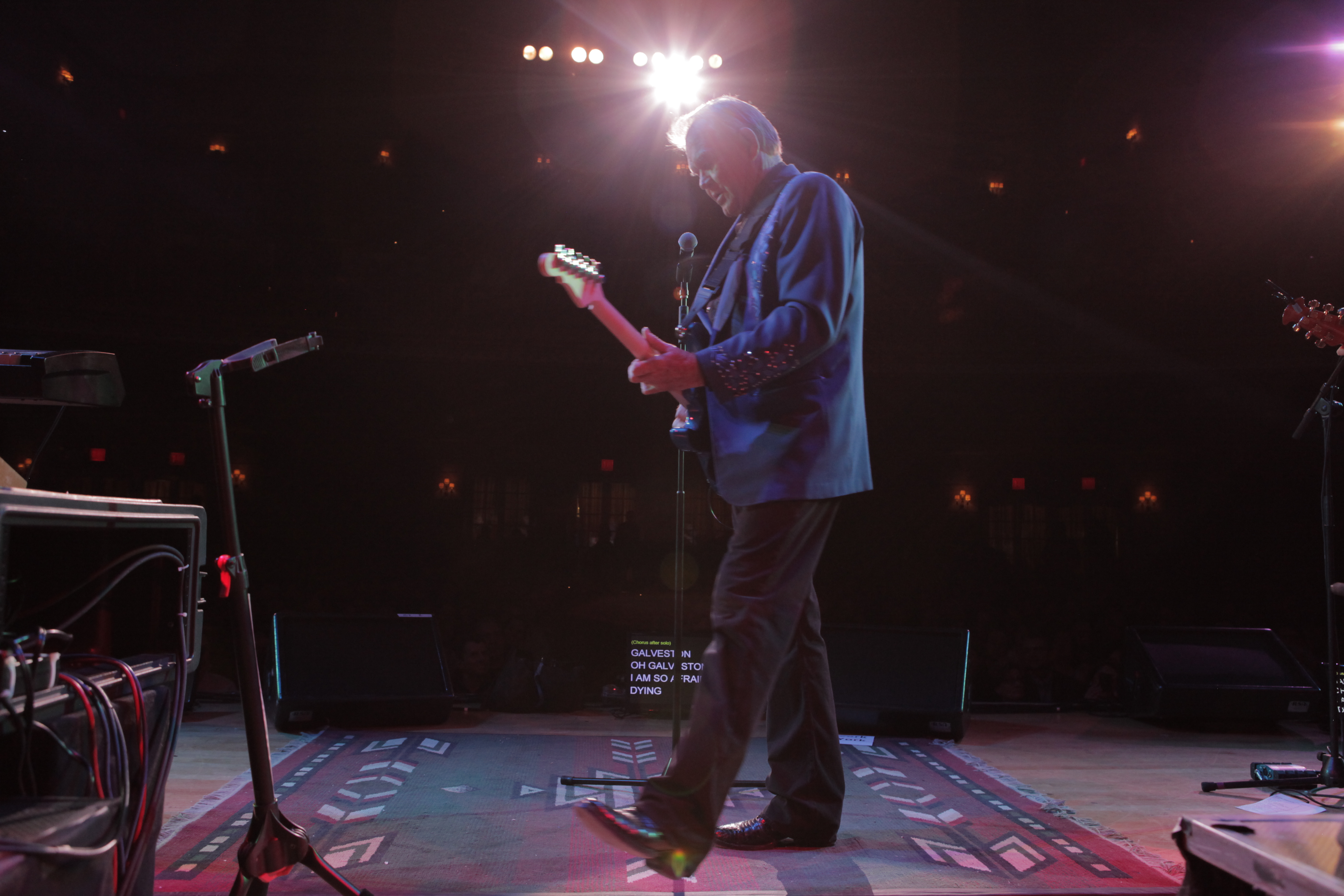 CNN Films Presents
February 23rd, 2015
CNN Announces Acquisition of GLEN CAMPBELL…I'LL BE ME from PCH Films
CNN Films Presents broadcasts planned for June and November 2015 through exclusive sponsorship with Eli Lilly and Company

CNN announced today the exclusive acquisition of the domestic broadcast rights for the critically-acclaimed feature documentary GLEN CAMPBELL…I'LL BE ME from PCH Films.
Featuring the Grammy Award®-winning and Academy Award®-nominated song, "I'm Not Gonna Miss You," sung by Glen Campbell himself, the heartbreakingly beautiful, funny, inspiring film directed by James Keach and produced by Trevor Albert and Keach follows the long goodbye that is Alzheimer's disease as Campbell, and his family, struggle with the diagnosis and progression of the illness through his poignant "Goodbye Tour" in 2011 to 2012.
The network intends the CNN Films Presents broadcast of GLEN CAMPBELL…I'LL BE ME to premiere on CNN in June, and then encore in November of 2015.
"We look forward to having the Campbells' brave story – unfortunately familiar to too many American families – on CNN. This partnership will guarantee that millions of people will have the opportunity to see our movie and understand just how important it is to both raise awareness – and find an end – to Alzheimer's disease," said producer Trevor Albert.
"Eli Lilly and Company has been committed to advancing Alzheimer's research and treatment for over 25 years," said Katrina Cukaj, executive vice president, CNN Ad Sales. "Through this thoughtful partnership, we are proud to align our efforts around this powerful film."
Director/producer James Keach added, "Here's a guy, an iconic musician, who was faced with having to hang up his guitar, his career over, but instead, he says, 'I ain't done yet. I'm going out to show what this disease is,' because he wants to change the conversation. If that ain't a hero, I don't know what is."
In 2011, Campbell set out on an unprecedented tour across America. Having just been diagnosed with Alzheimer's, Glen Campbell went public about his diagnosis, and together with his wife Kim, launched the Goodbye Tour. Originally planned for a five week run, his health – and popular demand – enabled the tour to expand to 151 spectacular sold out shows over the next year and a half. The Campbell family also together lobbied Congress for more funding for a cure. The film documents this amazing journey as Campbell and his family and friends attempt to navigate the wildly unpredictable nature of Campbell's progressing disease using love, laughter, and music.
The five-time Grammy Award®-winning artist sold more than 50 million albums in a singular career that includes extraordinary vocals and music like "Gentle on My Mind," "Southern Nights," and "Rhinestone Cowboy." Campbell also artistically collaborated with Elvis Presley, Stevie Wonder, Frank Sinatra, the Beach Boys, and so many others, using his renowned perfect pitch and flawless guitar skills to help usher country music into the mainstream. Artists including Bruce Springsteen, Blake Shelton, Paul McCartney, The Edge, Kathy Mattea, Sheryl Crow, Keith Urban, Brad Paisley, and many others including President Bill Clinton, contribute their memories of Campbell to the film.
The acquisition deal between CNN Films and PCH Films was negotiated by Courtney Sexton and Stacey Wolf of CNN, and by Lisa Callif of Donaldson+Callif on behalf of the filmmakers.
The soundtrack for the film is available on Big Machine Records.
Recent CNN Films broadcast premieres include WHITEY: United States of America v James J. Bulger, directed by Joe Berlinger; IVORY TOWER, an exploration of the value of a traditional college education, directed by Andrew Rossi; DINOSAUR 13, about paleontologist Peter Larson's multi-year odyssey to bring his history-making find of the Tyrannosaurus rex "Sue" to the world, directed by Todd Miller; and LIFE ITSELF, a biographical profile of renowned, Pulitzer prize-winning film critic, Roger Ebert, directed by Steve James.
About CNN Films
CNN Films produces and acquires documentary feature films for theatrical exhibition and distribution across CNN's multiple platforms.  Amy Entelis, svp of talent and content development and Vinnie Malhotra, svp of development and acquisitions, oversee the strategy for CNN Films.  For more information about CNN Films, please visit www.cnn.com/CNNFilms and follow @CNNFilms via Twitter.
About CNN
CNN Worldwide is a portfolio of two dozen news and information services across cable, satellite, radio, wireless devices and the Internet in more than 200 countries and territories worldwide. Domestically, CNN reaches more individuals on television, the web and mobile devices than any other cable TV news organization in the United States; internationally, CNN is the most widely distributed news channel reaching more than 271 million households abroad; and CNN Digital is a top network for online news, mobile news and social media. Additionally, CNN Newsource is the world's most extensively utilized news service partnering with hundreds of local and international news organizations around the world. CNN is division of Turner Broadcasting System, Inc., a Time Warner Company.
About PCH Films
PCH Films, based in Los Angeles, California, is a multimedia company founded by James Keach, Jane Seymour, and Trevor Albert in 2007. The company develops, produces, and finances feature film, TV, documentaries, animation and music. The partners' extensive credits include Walk The Line, Groundhog Day, League Of Extraordinary Gentlemen, Because Of Winn Dixie, National Lampoons Vacation, Dr Quinn Medicine Woman, award-winning documentary Disease Of the Wind and many others.  PCH has numerous projects in development including an animated feature adaptation of the best-selling children's book Skippyjon Jones written by Judy Schachner and adapted by Pete Goldfinger and Josh Stoleberg. They are also developing an adaptation of the Bram Stoker award-winning author Peter Straub's short story "Mr. Clubb and Mr. Cuff," which is being written by Bill Fitzhugh.
-30-