CNN
January 20th, 2015
CNN International and McLaren Technology Group enter multi-year partnership ahead of 2015 Formula 1 season
[vimeo 117248880 w=500 h=281]
CNN International, the world's leader in international news, and McLaren Technology Group announced today that CNN is confirmed as a new McLaren-Honda partner for the 2015 Formula 1 season and beyond.
The multi-year global partnership brings together two world-class pioneering brands, both of which have spent decades building a strong reputation for being first in their field. In a natural fit for both CNN International and McLaren Technology Group, each company operates in a dynamic, dizzyingly fast environment where success is judged as much by speed of response as by continual innovation and quality of product.
For the 2015 season, the partnership sees CNN's branding appear on the front-wing endplates of the new McLaren-Honda MP4-30 Formula 1 car, which will be unveiled in an online launch on January 29th. It also allows for CNN's use of McLaren's soon-to-open thought leadership centre, based within the McLaren Technology Campus in Woking, Surrey, UK, from which CNN International will produce several programmes to be broadcast globally across its network.
The partnership comes at an exciting time for both brands – CNN has again been named the world's number one international news brand and has won a clutch of awards including News Channel of the Year for the past two years from the Royal Television Society; McLaren heads into the 2015 Formula 1 World Championship with a new car, a new engine partner and the best driver line-up in Formula 1: world champions Fernando Alonso and Jenson Button.
The dynamic nature of the deal means that both parties see the potential to amplify the scope and scale of the partnership in the years to come, in areas such as sharing expertise and resources, cross-marketing their brands, and utilising networking and business relationships.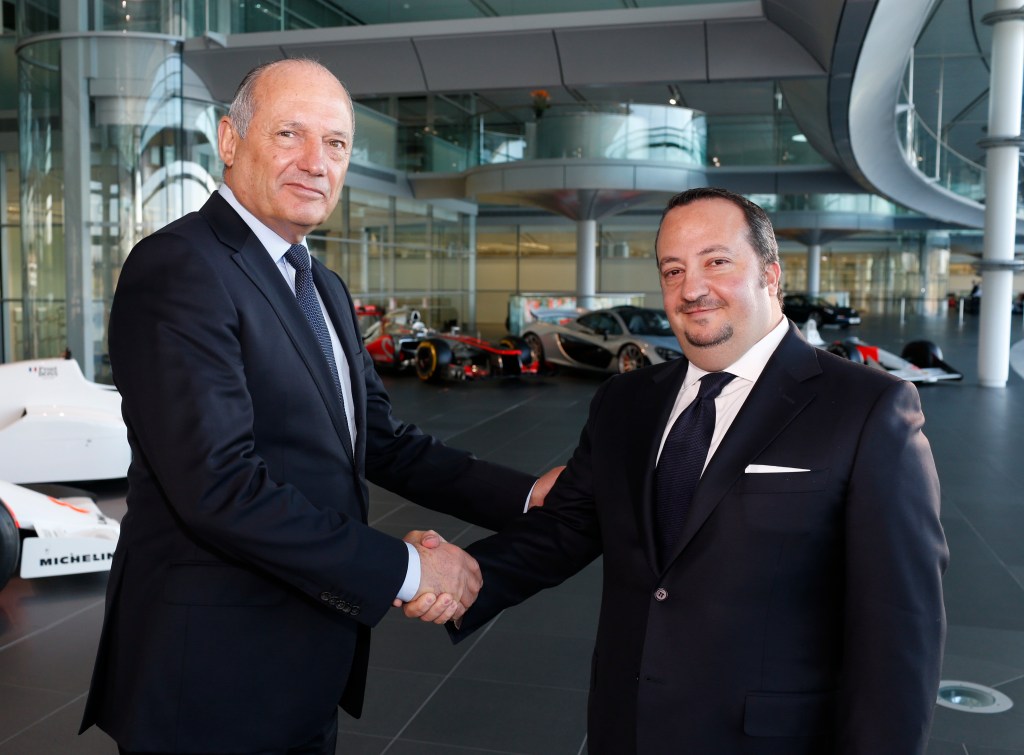 Rani Raad, Chief Commercial Officer, CNN International, said:
"This is a groundbreaking partnership between two trusted brands with a passion for high performance and continued innovation. Committed to being first, we share a mutual respect for each other's operations – whether that's the tenacity of CNN journalists in going to the heart of a story or McLaren's forensic focus for every F1 race. With a shared global footprint and highly engaged audience, there's a lot of expertise and best practice that we can both invest in this partnership.
"The added exposure CNN International will gain through our association with McLaren is part of an expansive consumer engagement initiative to capitalise on the power of our brand and consolidate our position as the world's biggest international news brand. The additional business, broadcasting and cross-marketing opportunities made possible by this multi-year deal will forge a close relationship between two companies on the world stage.
"In CNN International's 30th anniversary year, I will be incredibly proud to see the CNN brand on the new McLaren-Honda car when it lines up on the starting grid in Melbourne."
Ron Dennis, Chairman and CEO, McLaren Technology Group, said:
"There is an inherent symmetry between McLaren and CNN that makes us perfectly attuned for partnership. Like McLaren, CNN is a tremendously powerful and influential global network, one that has spent decades pioneering the latest technologies and techniques in a relentless, unforgiving, fast-paced environment. I think we understand each other on many levels.
"Equally, we've each based a deep-rooted culture of success on our core values – our belief in the strength of teamwork and technology – yet our flexibility and dynamism permit us to move seamlessly and effortlessly in order further to push the boundaries of technology and exploration.
"The partnership between McLaren and CNN is unique in that it operates on a very broad scope. Our shared love of technology has united us: together we will pursue new opportunities far beyond the conventional scope of a Formula 1 partnership.
"I think the executives at CNN are as excited as we are about the potential of this relationship."
Notes to editors
For more information, contact:
CNN International – Dan Faulks, Director, Communications, EMEA – +44 207 693 1362 / dan.faulks@turner.com
McLaren Technology Group – Matt Bishop, Group Head of Communications and Public Relations – matt.bishop@mclaren.com
About CNN International
CNN's portfolio of news and information services is available in five different languages across all major TV, internet and mobile platforms reaching more than 385 million households around the globe. CNN International, awarded "News Channel of the Year" by the Royal Television Society in 2013 and 2014, is the number one international TV news channel according to all major media surveys across Europe, the Middle East and Africa, the Asia Pacific region and Latin America. The CNN digital network is consistently one of the top news and current affairs destination on the web. CNN has 42 editorial offices and more than 1,100 affiliates worldwide through CNN Newsource. CNN International is part of Turner Broadcasting System, Inc., a Time Warner company.
About McLaren Technology Group
McLaren is globally renowned as one of sport's most successful competitors and as one of the world's most illustrious high-technology brands.
The McLaren Technology Group has grown to encompass much more than just motorsport: today it houses McLaren Applied Technologies, which supplies electronic systems to the entire Formula 1, Indycar and NASCAR grids and creates cutting-edge solutions for a wide variety of high-tech industries. McLaren Automotive has established itself as a successful global company having launched the internationally acclaimed 12C, 650S and McLaren P1™ high-performance cars.
McLaren-Honda campaigns the 2015 FIA Formula 1 World Championship with the driver pairing of two-time (2005, 2006) world champion Fernando Alonso and 2009 world champion Jenson Button. They drive the McLaren-Honda MP4-30.