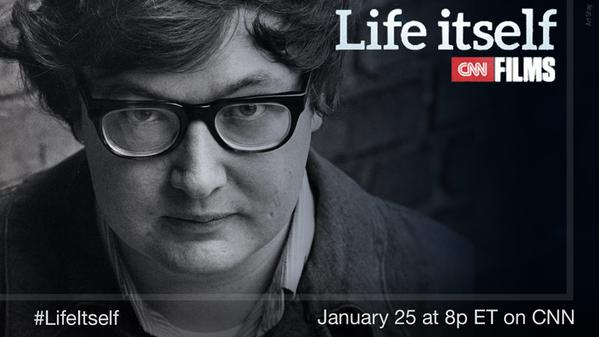 CNN Special Programming & Documentaries
January 5th, 2015
CNN FILMS LIFE ITSELF PREMIERES AT #1 IN TOTAL CABLE NEWS VIEWERS
LIFE ITSELF RANKED #2 IN P25-54 IN CABLE NEWS
CNN Films: LIFE ITSELF rung in at 506k, landing in first place among total viewers aged P2+ following its global television premiere on Sunday, Jan. 4 from 9:00pm to 11:00pm Eastern.  This total topped MSNBC at 265k and Fox News at 497k viewers.
Among viewers aged 25 to 54, the cable news demo for marketing, LIFE ITSELF landed in second place with 166k viewers.  CNN averaged ahead of MSNBC which had 152k viewers aged 25 to 54.  Fox News came in last place with 82k viewers in the cable news demo.
Of the 16 CNN Films and three CNN Films Presents premieres to date, LIFE ITSELF is the first to place #1 in total viewers (P2+) among cable news networks in its time period.
This performance lifted CNN above MSNBC by +9% and more than doubled the delivery of Fox News by +102% among viewers aged 25 to 54.
LIFE ITSELF will encore on CNN on Friday, Jan. 9, at 9:00pm and on Sunday, Jan. 25 at 8:00pm.  All times Eastern.
Source: The Nielsen Company, 01/04/15, Fast National time period based Live+SD feed data.  All times reported are Eastern Standard Time.
 ###