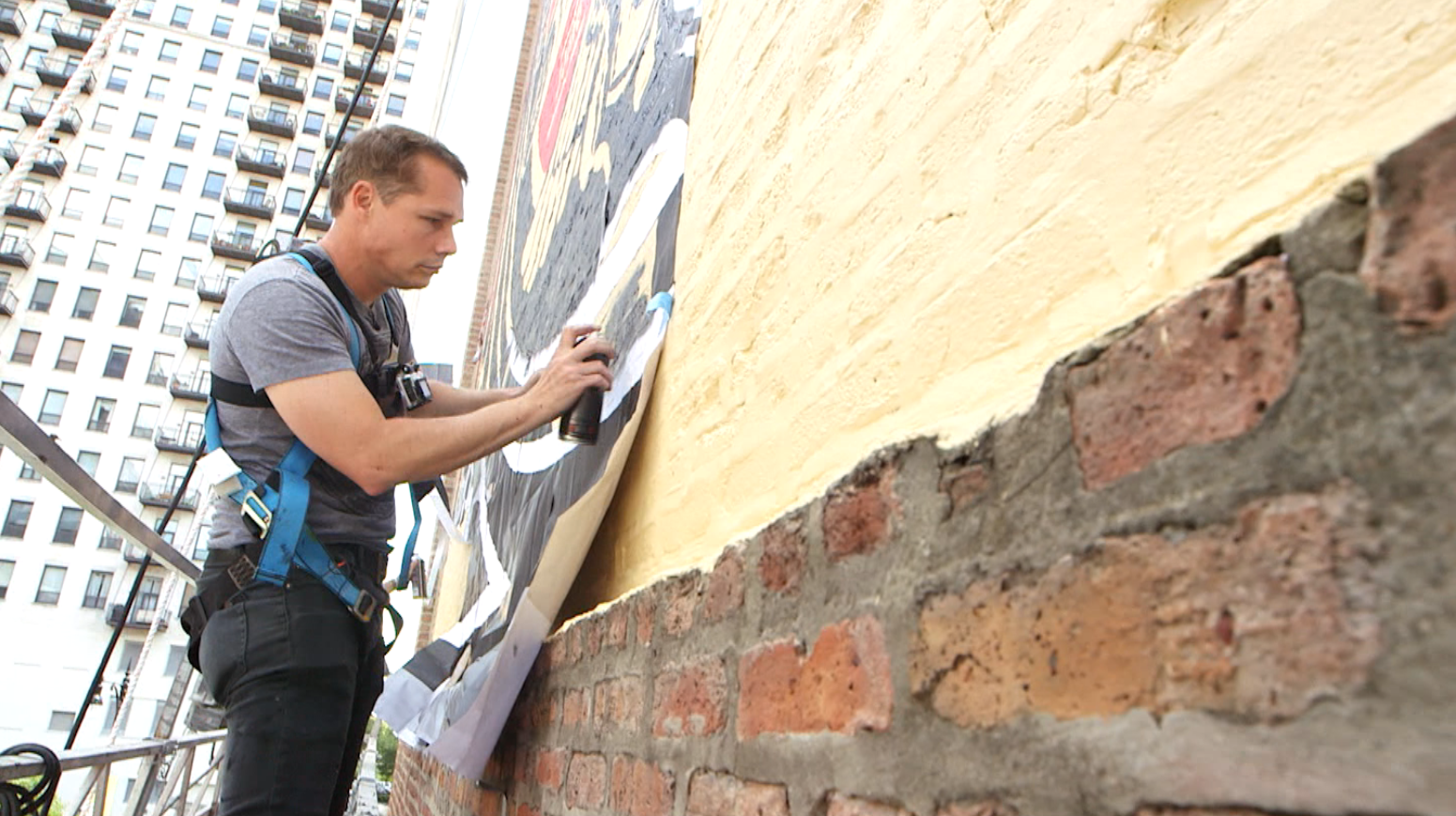 CNN
December 1st, 2014
'CNN Ones to Watch' with Shepard Fairey and Steve Lazarides
Friday 12 December at 1630 GMT
Street art giants Shepard Fairey and Steve Lazarides feature in upcoming street art episode
Fairey and Lazarides pick Chicago artist POSE, Shamsia Hassani from Kabul, and Portuguese artist Vhils as 'Ones to Watch'
CNN International's new series which shines a light on the next big names in culture and the arts, 'CNN Ones to Watch'  – continues in December, with an episode dedicated to street art, exploring the subculture which is turning into a multi-million dollar industry.
Legendary American street artist Shepard Fairey, renowned for his 'Obama Hope' poster and influential OBEY clothing line, alongside former Banksy associate turned art-dealer, Steve Lazarides, act as this month's 'masters', pointing viewers in the direction of the boldest new names in street art.
As one of the most influential figures within street art, Shepard Fairey has spent a lifetime creating pieces of work that are destroyed shortly after. For this reason, he believes upcoming street artists need a tenacious personality in order to become successful.
Fairey tells the programme: "What I think it takes to break through as a street artist is a tenacity, a willingness to go there put work up and have it cleaned, have it covered by other artists, and not be too precious about it, to accept that street art is ephemeral. Of course, finding good places and making imagery that is unique and sets your work apart from other people is really important, but tenacity is crucial."
The three artists picked by Fairey and Lazarides as rising stars of street art, certainly have tenacity – continually creating pieces of art in challenging and unconventional places.
'CNN Ones to Watch' travels to Kabul, Afghanistan; Chicago in the US, and Lisbon in Portugal to meet these promising artists as they produce a new mural throughout the episode, revisiting them at the conclusion, as they lay the finishing touches to their new artwork.
Afghan artist Shamsia Hassani is a courageous young woman whose spray-cans are beautifying the war-torn streets of Kabul. A recurring image within her work are the large, strong frames of burka-clad women, painted onto walls ravaged by bullets and war. Lazarides believes it is the political message contained in Hassani's courageous work which makes her an artist to watch, telling 'CNN Ones to Watch':
"She's got that thing that a lot of great artist have, that one iconic image that a lot of people can link to. It's part of that old political tradition of graffiti… if you go back to Roman times it was the Greeks writing Romans out, it's quite often been used as a form of protest and I think hers is following in that rich tradition."
In Chicago, urban artist POSE has illegally painted the streets of his home town for years, but CNN captures the moment he legitimately paints on his own streets for the first time, as part of a street art festival organised by Shepard Fairey called 'Art Alliance: The Provocateurs'.
Speaking of his beginnings in the street art world, and Chicago's relationship with graffiti, POSE says: "I was always told no, I was always arrested and locked up, beat up by the police, it's a very, very rough city one of the most anti-graffiti cities that I've seen in the world. Now if you look around, all the cool neighbourhoods have street art, and graffiti co-exists with that, those are the neighbourhoods that are being sought after for some of the highest property values, where to put the next Marc Jacobs store."
Portuguese artist Vhils, who uses jackhammers and explosives to create images in relief on abandoned walls and buildings, echoes this sentiment that a city greatly influences the street art created there. Speaking about Lisbon, and how he developed his 'destructive' style, he tells the programme: "I remember when I was growing up that you could see the development of the city like a bomb that had fallen into Lisbon and the shockwave was arriving… and I started to look at a wall as something that absorbs the history… I realised that I didn't want to be one more layer on all these layers building up on the city every day."
'CNN Ones to Watch' airs at the following times on CNN International:
Friday 12 December at 1030 GMT/ 1130 CET and 1630 GMT/1730 CET
Saturday 13 December at 1430 GMT/ 1530 CET and 2030 GMT/ 2130 CET
Monday 15 December at 0430 GMT/0530 CET and 0930 GMT/ 1030 CET
Tuesday 16 December at 1030 GMT/ 1130 CET and 1730 GMT/1830 CET
For more information, please contact:
Joel Brown
Senior Press Officer
CNN Europe, Middle East & Africa
Tel: + 44 (0) 20 7693 0967 / + 44 (0) 7967 293452