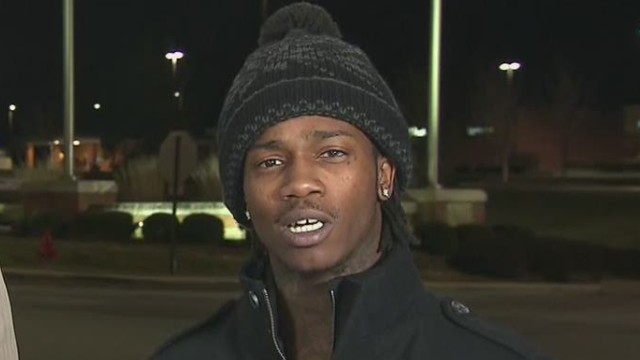 CNN
November 26th, 2014
CNN OutFront: Dorian Johnson and Sybrina Fulton React to Ferguson Decision
In his first live interview since the grand jury decided that it won't indict Officer Darren Wilson for the fatal shooting of unarmed teenager Michael Brown, Dorian Johnson told CNN's Erin Burnett that he's hurt by the decision. Johnson was Brown's friend who was with him when he was shot, and testified before the grand jury.
"I know exactly what I saw," Johnson told Burnett. "I was there the whole time, and I definitely saw my friend stop and put his hands up, being compliant, after being fired upon, after already being struck and with a bullet wound from Officer Darren Wilson's gun."
Sybrina Fulton, whose 17-year-old son Trayvon Martin was shot and killed by George Zimmerman in February 2012, also joined Erin Burnett OutFront last night. Zimmerman's trial ultimately ended in acquittal and sparked a civil rights debate across the nation.
 "Judging by history, I wasn't surprised," Fulton told Erin. "But there was a certain part of me that just wanted him to be held accountable for just the death of a young man.  But judging by the history, the track record of the justice system, the track record of what's been going on with our African-American youth, it was highly unlikely that he was going to be held accountable."
Click here to watch the full Fulton video: http://cnn.it/1zXwKuz