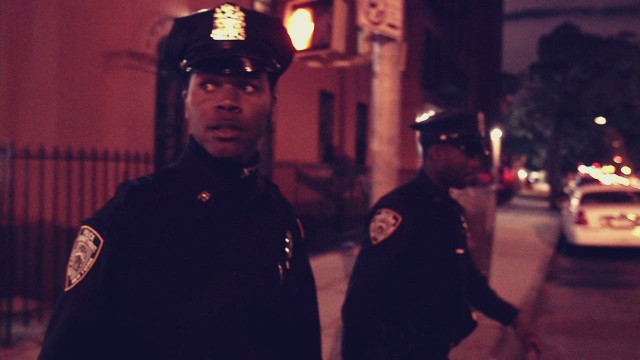 CNN Special Programming & Documentaries
November 14th, 2014
BLACK in America: BLACK & BLUE – Soledad O'Brien Reports encores TONIGHT at 11:00pmET
A CNN special investigation encores Wednesday, Nov. 26 at 11:00pm Eastern
In a new installment of her Black in America series, award-winning journalist Soledad O'Brien uses graphic videos and incisive interviews to show how the lives of young men are fractured by aggressive policing. Her documentary film, BLACK & BLUE, takes us into the lives of men frisked without cause as many as 100 times, and the police officers who insist they're just fighting crime.
Between 2002 through mid-2013, the New York Police Department (NYPD) reported making more than 5 million stops.  More than 80 percent of those stopped were African American or Latino, and 88 percent of the stops did not result in arrests, summons, or evidence of any crime, O'Brien reports with her co-directors Ross Tuttle and Steve Maing.
"What is so shocking is that this police practice was used around the country – and in some places still is – with the theory that police were stopping criminals," said O'Brien. "It's shocking that the city where this was popularized was stopping so many innocent people."
BLACK & BLUE brings you the personal stories of the men affected by those aggressive policing tactics, men whose friends were able to document the confrontations on shocking videos. O'Brien rides along with fearful police officers patrolling high crime areas who believe the "stop and frisk" tactic was catching only would-be criminals.
But a police officer, his identity concealed, tells O'Brien the police were not doing it to fight crime, but to fulfill arrest quotas established for senior officials. "Everything is numbers based…Summonses must be written; the arrests must be made…," he says.
New York ushered in a new mayor with a mandate to transform policing. Yet he made a curious choice: appointing the same police commissioner that initiated these policing tactics years ago. "I've been a cop for 44 years…So, I can understand some of the attitudes and beliefs," William Bratton, NYPD Commissioner tells O'Brien.
The one-hour Black in America special, BLACK & BLUE, is produced by O'Brien's Starfish Media Group.  The special premiered Tuesday, Nov. 18 at 9:00pmET.
Black in America: BLACK & BLUE will be available, in simulcast, via CNNgo by logging in with a TV provider username and password on CNN's iPad app or via www.cnn.com/go.
About Starfish Media Group
Starfish Media Group is an integrated media production company and distributor, dedicated to uncovering and producing empowering stories. SMG takes a challenging look at often divisive issues of race, class, wealth, opportunity, poverty through personal stories. Founded by award-winning journalist and multifaceted broadcaster Soledad O'Brien, Starfish Media Group uniquely resonates with today's diverse global audience through impactful topics that define our time.
About CNN
CNN Worldwide is a portfolio of two dozen news and information services across cable, satellite, radio, wireless devices and the Internet in more than 200 countries and territories worldwide. Domestically, CNN reaches more individuals on television, the web and mobile devices than any other cable TV news organization in the United States; internationally, CNN is the most widely distributed news channel reaching more than 271 million households abroad; and CNN Digital is a top network for online news, mobile news and social media. Additionally, CNN Newsource is the world's most extensively utilized news service partnering with hundreds of local and international news organizations around the world. CNN is division of Turner Broadcasting System, Inc., a Time Warner Company.
-30-