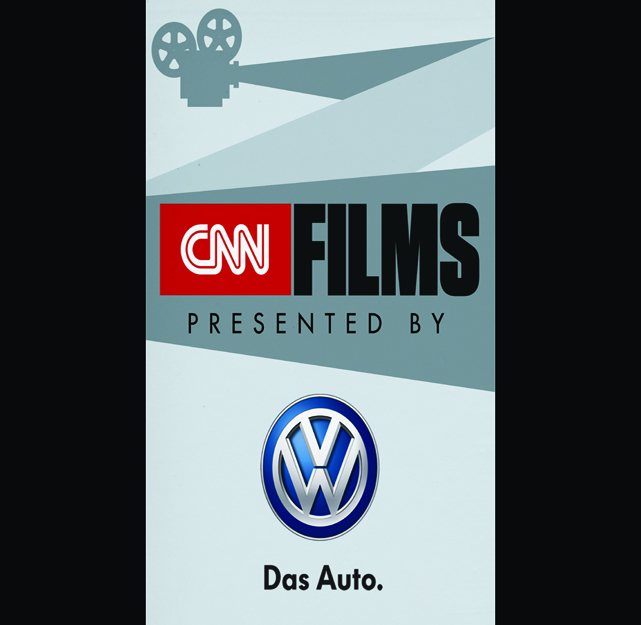 The Sixties
November 12th, 2014
CNN Green Lights Volkswagen as the Debut Presenting Sponsor for CNN Films
Multi-Title Partnership to Launch around IVORY TOWER Premiere
Volkswagen is in the driver's seat as presenting sponsor for CNN Films, it was announced today by CNN Ad Sales. Spanning several titles and a multi-screen promoted partnership, CNN will kick off the brand's presenting sponsorship around the anticipated debut of IVORY TOWER, directed by award-winning filmmaker Andrew Rossi, on Thursday, November 20 at 9 p.m. and 11 p.m. Eastern.
Through this first-of-its-kind presenting partnership for CNN Films, Volkswagen will have extensive co-branded presence leading into and within sponsored films, including opening credits branding and custom-produced co-branded creative showcasing the partnership during broadcasts of the films, coupled with the brand's own creative in the a position of a film break. Negotiated by Volkswagen's media agency MediaCom, the partnership lasts through the first three quarters of 2015, and will span a number of select films from the CNN Films slate.
"As our news formats and content evolve, and continue to be recognized with awards across the industry, so do our conversations with agencies and inspired brands like Volkswagen,' said Katrina Cukaj, executive vice president, CNN Ad Sales. "This partnership aligns Volkswagen with superior storytelling that spans both linear and digital environments, while encouraging thought provoking discussion across social channels."
Other upcoming CNN Films include DINOSAUR 13, about paleontologist Peter Larson's multi-year odyssey to bring his history-making find of the Tyrannosaurus rex "Sue" to the world and LIFE ITSELF, a biographical profile of renowned film critic Roger Ebert.
For more information about IVORY TOWER, please visit www.cnn.com/ivorytower.
About Volkswagen of America, Inc.
Founded in 1955, Volkswagen of America, Inc., an operating unit of Volkswagen Group of America, Inc. (VWoA) is headquartered in Herndon, Virginia. It is a subsidiary of Volkswagen AG, headquartered in Wolfsburg, Germany. VWoA's operations in the United States include research and development, parts and vehicle processing, parts distribution centers, sales, marketing and service offices, financial service centers, and its state-of-the-art manufacturing facility in Chattanooga, Tennessee. The Volkswagen Group is one of the world's largest producers of passenger cars and Europe's largest automaker. VWoA sells the Beetle, Beetle Convertible, Eos, Golf, GTI, Jetta, Jetta SportWagen, Passat, CC, Tiguan, and Touareg vehicles through approximately 649 independent U.S. dealers.
About CNN Films
CNN Films produces and acquires documentary feature films for theatrical exhibition and distribution across CNN's multiple platforms.  Amy Entelis, svp of talent and content development and Vinnie Malhotra, svp of development and acquisitions, oversee the strategy for CNN Films.  Upcoming films include DINOSAUR 13, a paleontologist's multiyear odyssey to bring the Tyrannosaurus rex "Sue" to the world; and LIFE ITSELF, a profile of renowned film critic Roger Ebert.  For more information about CNN Films, please visit www.cnn.com/CNNFilms and follow @CNNFilms via Twitter.
About Turner Broadcasting Ad Sales
Turner Broadcasting Ad Sales monetizes the company's portfolio of leading news, sports, kids and entertainment properties through advertising and brand activations. Attracting a wide-scale audience of diverse consumers, the collection includes leading media brands CNN, HLN, TBS, TNT, truTV, Cartoon Network, Boomerang, Adult Swim, Bleacher Report and Turner Sports' high-profile coverage of the NBA, NASCAR, MLB, NCAA and PGA. In addition, the company has digital sales partnerships with Funny Or Die, the NBA, NCAA and PGA.
Turner Broadcasting Ad Sales is part of Turner Broadcasting System, Inc., a Time Warner company. Turner Broadcasting creates and programs branded news; entertainment; animation and young adult; and sports media environments on television and other platforms for consumers around the world.
 -30-