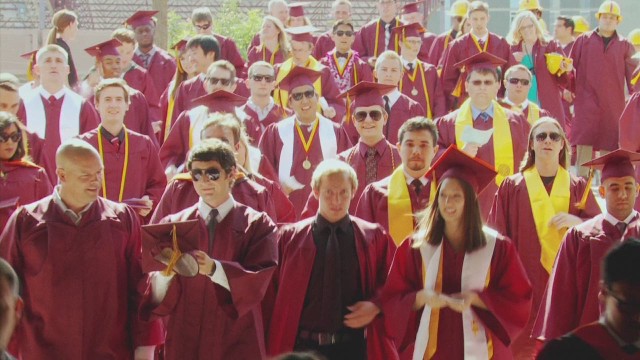 CNN Films
November 7th, 2014
CNN Films: IVORY TOWER Asks — Is College Worth the Cost?
Following Successful Festival Exhibition, CNN Films Broadcast will Premiere Thursday, Nov. 20 at 9:00pm and 11:00pm ET
IVORY TOWER, which had its world premiere at the 2014 Sundance Film Festival, and was exhibited in theaters throughout the country, will make its global television premiere on CNN/U.S. on Thursday, Nov. 20 at 9:00pm and 11:00pm Eastern. The film is directed and produced by Emmy-nominated filmmakers Andrew Rossi (Page One: Inside The New York Times, 2011) and Kate Novack.
As tuition rates spiral beyond reach for many students, and student loan debt passes $1 trillion (more than credit card debt), the film asks: Is college worth the cost?  From the halls of Harvard, to public colleges in financial crisis, to new models for accessing higher education influenced by Silicon Valley, the filmmakers assemble an urgent portrait of a great American institution at a transformational breaking point.
"Questions of accessibility to college and the quality of higher education are crucial to our society both on a policy level and in the ordinary lives of individual students and their families," said writer, director, and producer Andrew Rossi. "We are thrilled that CNN Films will bring this exploration of the value of a college education from theaters into the homes of so many viewers, and we hope that IVORY TOWER will spark conversations across dinner tables – as well as in the halls of universities and state and federal governments," Rossi said.
Told through interviews with Columbia University professor Andrew Delbanco (College: What It Was, Is, And Should Be, 2013), author Anya Kamenetz (DIY U, 2010, and Generation Debt, 2006), Cooper Union graduate Victoria Sobel, Harvard College student David Boone, and Harvard Business School professor and author Clayton Christensen (The Innovator's Dilemma, 2011), IVORY TOWER explores how many colleges struggle to balance their mission for higher learning with the need to compete with other institutions for the best and brightest. Often, this delicate balance results in a perverse incentive for schools facing cash-strapped state budgets to tilt university funding towards capital enhancements such as fancy sports facilities, luxurious dining halls, and research laboratories that accrue prestige to the universities, but do not always lead to better learning outcomes.
"In an era when many young people expect to be less successful than their parents, Andrew Rossi and Kate Novack have identified the question that haunts students and parents across the nation: how will we pay for college?" said Amy Entelis, senior vice president of talent and content development for CNN Worldwide. "We are delighted to encourage the continuation of this timely discussion from the film's exhibition in theaters and festivals with our broad CNN Films audience," Entelis said.
For the film, Richard Arum, author of Academically Adrift, 2010, discusses how "party pathways" in some colleges mean that some students are short-changed academically – actually learning very little for their tuition money – finding that nearly half of all students do not score appreciably higher on skills tests administered after spending two years in college. Also, the film explores in-depth the battle lines drawn in the deeply contentious, history-making Cooper Union tuition debate, as students resist President Jamshed Bharucha's moves to charge undergraduate tuition – for the first time ever in the school's more than 150-year existence – in an effort to help address the university's financial woes.
The news is not all bad though. Spelman College students Brooke Brewster and Amirah Mitchell describe how their college experiences have yielded immeasurable gains in self-esteem and peer-to-peer mentoring by being in the company of similarly accomplished African American women.
The film also explores the experimentation with MOOCs, or Massive Open Online Courses, offered by startups like the Harvard and MIT joint venture, edX, or Daphne Koller's and Sebastian Thurn's Udacity. Some colleges and state university systems are looking at whether MOOCs can help broaden access to a college education while reducing costs.
Along the way Rossi and Novack find other unique programs, from Stanford University to the free desert school Deep Springs, and to Bunker Hill Community College, where, like Spelman College, the potential for life-changing college experiences endure. Ultimately, IVORY TOWER asks: what price will society pay if higher education cannot revolutionize college as we know it and evolve a sustainable economic model?
IVORY TOWER will be available live via CNNgo by logging in with a TV provider username and password on CNN's iPad app or at www.CNN.com/go.
Other upcoming CNN Films include DINOSAUR 13, about paleontologist Peter Larson's multi-year odyssey to bring his history-making find of the Tyrannosaurus rex "Sue" to the world and LIFE ITSELF, a biographical profile of renowned film critic Roger Ebert.
For more information about IVORY TOWER, please visit www.cnn.com/ivorytower.
About CNN Films
CNN Films produces and acquires documentary feature films for theatrical exhibition and distribution across CNN's multiple platforms.  Amy Entelis, svp of talent and content development and Vinnie Malhotra, svp of development and acquisitions, oversee the strategy for CNN Films.  Upcoming films include DINOSAUR 13, a paleontologist's multiyear odyssey to bring the Tyrannosaurus rex "Sue" to the world; and LIFE ITSELF, a profile of renowned film critic Roger Ebert. For more information about CNN Films, please visit www.cnn.com/CNNFilms and follow @CNNFilms via Twitter.
About CNN
CNN Worldwide is a portfolio of two dozen news and information services across cable, satellite, radio, wireless devices and the Internet in more than 200 countries and territories worldwide. Domestically, CNN reaches more individuals on television, the web and mobile devices than any other cable TV news organization in the United States; internationally, CNN is the most widely distributed news channel reaching more than 271 million households abroad; and CNN Digital is a top network for online news, mobile news and social media. Additionally, CNN Newsource is the world's most extensively utilized news service partnering with hundreds of local and international news organizations around the world. CNN is division of Turner Broadcasting System, Inc., a Time Warner Company.
-30-