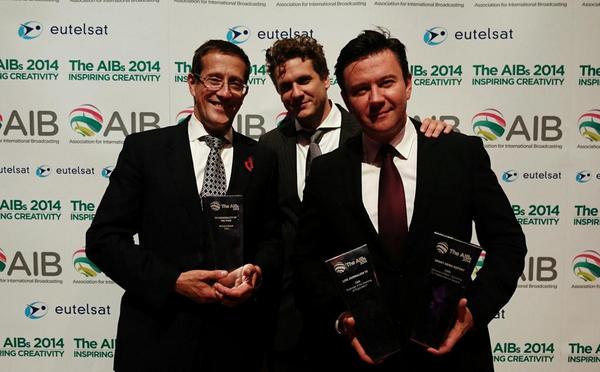 Malaysia Airlines MH17 Crash
November 5th, 2014
CNN takes three AIB awards, Richard Quest named TV Personality of the Year
CNN celebrated three wins at the 2014 Association for International Broadcasting awards, hosted at the LSO St Luke's in London on Wednesday night.
For the second year running, CNN was awarded the prize for best 'Live Television Journalism', this time for its reporting on the downing of Malaysia Airlines Flight 17 over Ukraine.
CNN also won in the 'Short News Report' category for its coverage of a shooting which took place during clashes between Ukrainian security forces and protestors in Kiev's Independence Square.
The climax of the evening, however, was the naming of Richard Quest as the 'Television Personality of the Year.' Quest, whose dynamic and distinctive style has made him a unique figure in the field of business broadcasting, was at the ceremony to personally receive the award.
The past year has seen the anchor of the primetime Quest Means Business show interview a raft of leading economic and political figures, including IMF chief Christine Lagarde, former UN Secretary General Kofi Annan and BP CEO Bob Dudley.
As CNN's established aviation expert, Quest also played a leading role in covering the disappearance of Malaysia Airlines Flight 370 across the network's platforms. In April he traveled to Kuala Lumpur, Malaysia, to record an exclusive interview with Malaysian Prime Minister Najib Razak. He was also responsible for fronting much of the CNN's coverage of the downing of flight MH17.
"I am delighted the AIBs 2014 judges have recognized both the individual effort of the incomparable Richard Quest and collective effort involved in CNN's reporting of two incredibly difficult – and different – stories in Ukraine," said Tony Maddox, Executive Vice President and Managing Director of CNN International. "And we are so pleased for Richard, one of the brightest talents in international broadcasting, as he receives such a thoroughly-deserved recognition. These honors are quite special, and a reminder that quality journalism can make a difference."