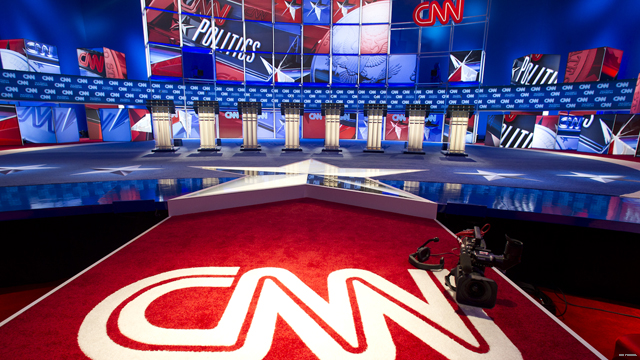 Jake Tapper
October 6th, 2014
CNN TO HOST 2014 DEBATES
As we head into the final stretch of the election season, CNN's Wolf Blitzer and Jake Tapper will showcase the network's America's Choice 2014 coverage as they moderate debates for two of the nation's most hotly contested races.
CNN is partnering with local affiliates WJXT-TV in Florida for the gubernatorial showdown between Charlie Crist (D) and incumbent Gov. Rick Scott (R). The network is also teaming up with the recently launched NH1 News / WBIN-TV in New Hampshire for the U.S. Senatorial debate between Scott Brown (R) and incumbent Sen. Jeanne Shaheen (D).
During each broadcast, CNN will invite viewers to react to the candidates with an online focus group tool powered by Microsoft's Bing Pulse. Following each debate, the online sentiment tracker will reveal independent, Democrat and Republican reaction, underlining highs and lows and which topics resonated most with viewers.
More debate details are below:
On Tuesday, October 21 at 7 p.m. ET, Jake Tapper, chief Washington correspondent and anchor of The Lead, will co-host the live, one-hour gubernatorial debate in Jacksonville, Fla., featuring Charlie Crist (D) and Rick Scott (R). Tapper will join WJXT-TV anchor and reporter Kent Justice at WJXT's Jacksonville studio to co-moderate the final debate before Election Day. There will be no media or public access to the Jacksonville studio for the debate.
On Thursday, October 23 at 7 p.m. ET, Wolf Blitzer, lead political anchor and anchor of The Situation Room will moderate the live, one-hour debate for the U.S. Senate seat in New Hampshire between Democratic incumbent Jeanne Shaheen and GOP challenger Scott Brown. NH1 News political director and anchor Paul Steinhauser will join Blitzer in posing questions to the candidates. The debate will take place at NH1's Concord studio. There will be no public or media access to the studio for the NH debate. Press inquiries for the NH debate should be directed to David Solomon at dsoloman@nh1.com.
About CNN
CNN Worldwide is a portfolio of two dozen news and information services across cable, satellite, radio, wireless devices and the Internet in more than 200 countries and territories worldwide. Domestically, CNN reaches more individuals on television, the web and mobile devices than any other cable TV news organization in the United States; internationally, CNN is the most widely distributed news channel reaching more than 271 million households abroad; and CNN Digital is a top network for online news, mobile news and social media.  Additionally, CNN Newsource is the world's most extensively utilized news service partnering with hundreds of local and international news organizations around the world.  CNN is a division of Turner Broadcasting System, Inc., a Time Warner Company.
###
PRESS CONTACT:
Edie Emery, CNN, edie.emery@cnn.com, 202-898-7657