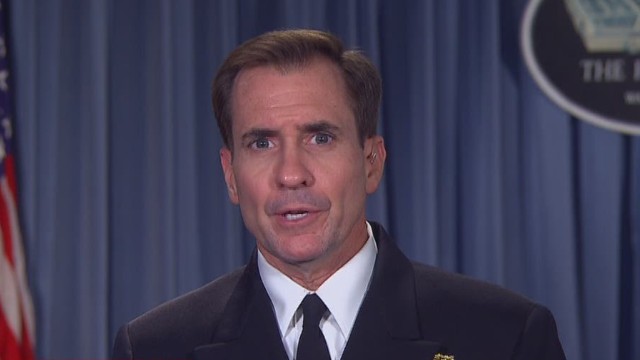 Wolf Blitzer
September 24th, 2014
Pentagon press secretary, Rear Admiral John Kirby talks with CNN's Wolf Blitzer about strikes on ISIS in Syria
As air strikes on ISIS in Syria concluded, Pentagon press secretary Rear Admiral John Kirby joined The Situation Room with Wolf Blitzer to discuss the campaign. A highlight from the interview is after the jump and a full program transcript is posted  on http://archives.cnn.com/TRANSCRIPTS/sitroom.html
Please credit ­CNN's The Situation Room with Wolf Blitzer
Highlight from the Full Interview
THIS IS A RUSH TRANSCRIPT. THIS COPY MAY NOT BE IN ITS FINAL FORM AND MAY BE UPDATED.
WOLF BLITZER, CNN HOST: I want to bring in the Pentagon press secretary, Rear Admiral John Kirby.  He's joining us now live from the Pentagon. Admiral, thanks very much for joining us. First of all, update us on this new round of U.S. and Arab-allied air strikes.  What's going on?
REAR ADMIRAL JOHN KIRBY, PENTAGON PRESS SECRETARY: These strikes just ended moments ago, Wolf.  It was against 12 targets in eastern Syria.  These 12 targets were what we call modular oil refineries.  So they're oil refineries, not oilfields, but actual refineries.  They were struck with precision-guided munitions over the course of about an hour-and-a-half this afternoon by both U.S. and coalition aircraft.  In fact, there were more coalition aircraft in the skies on these particular missions than there were U.S. flights.
BLITZER: Which coalition partners participated?
KIRBY: Saudi Arabia participated, as did the United Arab Emirates.
BLITZER: And they dropped more bombs, precision missiles or whatever, than the U.S. did? Is that what you're saying, Admiral?
KIRBY: Well, we're still working on — I don't have an exact number of actual number of munitions dropped. I can tell you they were precision-guided munitions. But what I am saying is the majority of the aircraft on these missions were actually coalition aircraft and not U.S.
###