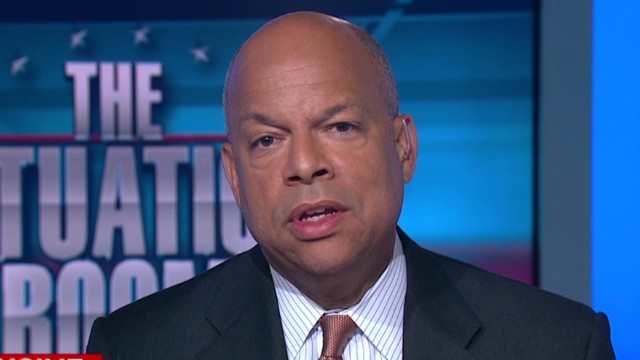 Wolf Blitzer
September 22nd, 2014
Homeland Secy. tells CNN's Wolf Blitzer the recent security risks at the White House are, " a series of troubling events"
Washington (CNN) — The militant group ISIS represents a "very significant potential threat to homeland security," and officials have a "good sense" of the individuals from the United States who are trying to travel to Syria and fight with the terrorist group, the secretary of Homeland Security said Monday on CNN.
"They are a dangerous organization that has acquired territory in Iraq and Syria from which they could launch attacks, train, command and control," Jeh Johnson said on "The Situation Room with Wolf Blitzer."
Visit http://www.cnn.com/2014/09/22/politics/dhs-secretary-isis/index.html for the full story.
—
Blitzer also asked Secy. Johnson about the recent security risks at the White House.  Blitzer questioned, "How could this happen, Mr. Secretary?" Johnson replied,"Well, that's what I'd like to know.  Director Pearson of the Secret Service has ordered, a security review which she will submit to me.  The Secret Service is part of the Department of Homeland Security.  I look forward to the findings and recommendations.  I'm going to wait till the facts are in before I draw any conclusions.  This is clearly, however, a series of troubling events." A full transcript of the program will be posted on http://archives.cnn.com/TRANSCRIPTS/sitroom.html.