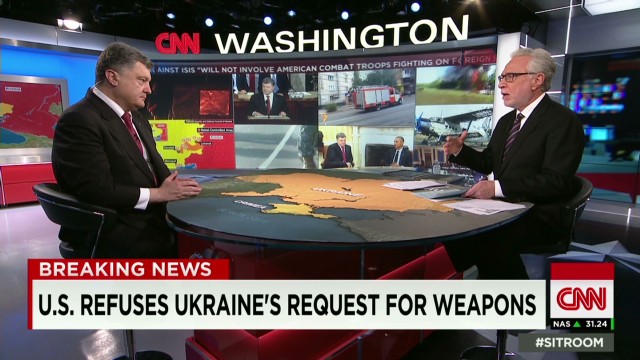 Wolf Blitzer
September 18th, 2014
President of Ukraine tells CNN's Wolf Blitzer that U.S. has refused Ukraine's request for weapons
After his White House visit, Ukraine's president Petro Poroshenko sat down with CNN's Wolf Blitzer to talk about the country's plea for substantive military aid.  A highlight from the interview is after the jump and a full transcript will be posted on http://archives.cnn.com/TRANSCRIPTS/sitroom.html
Please credit ­CNN's The Situation Room with Wolf Blitzer
Highlights from the Full Interview
THIS IS A RUSH TRANSCRIPT. THIS COPY MAY NOT BE IN ITS FINAL FORM AND MAY BE UPDATED.
WOLF BLITZER, CNN: I've got some other important issues we've got to get to. In your address before Congress, you appealed to the United States to provide Ukraine what's called major non-NATO ally status. Other countries like Japan, South Korea, Israel — they have this status. You want it. What did the president of the United States tell you? Will Ukraine be a major non-NATO ally, which is very significant?
PETRO POROSHENKO, UKRAINIAN PRESIDENT: My answer would be, again, very straightforward. The answer of President Obama was no.
BLITZER: He told you no?
POROSHNKO: He said, No, because we already have a special status for the level of the cooperation between the United States and Ukraine. The level of the security and defense cooperation is much higher than just the status of the major non-NATO ally, for example, granting to the Argentina. And we are working under special status for the strategic and defense and security partner of the United States, and I think that would be more efficient, than just —
BLITZER: So you must be disappointed — you made the appeal before Congress. You were applauded. They gave you a standing ovation when you
POROSHENKO: We received more than we asked.
BLITZER: So you're basically satisfied with what you got, even though you didn't get that?
POROSHENKO: Absolutely.
###