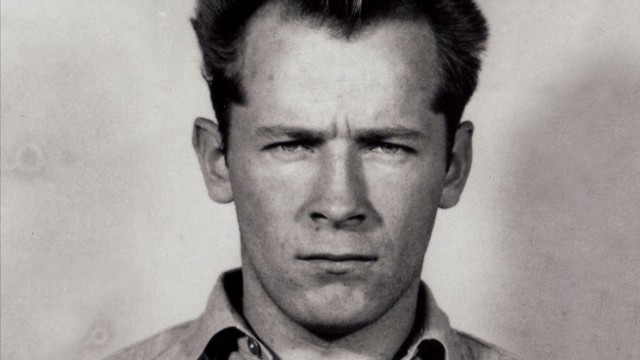 CNNI Press Releases
September 3rd, 2014
Was Boston's Most Notorious Gangster an Informant?
WHITEY: United States of America v. James J. Bulger set to premiere on CNN on Thursday, Sept. 18
Long before he became the top dog of the "Winter Hill Gang" mob, James "Whitey" Bulger's 'resume' already included tenure as an inmate at Alcatraz – an infamous maximum security federal penitentiary that was reserved for the nation's most dangerous felons. Later, for nearly 30 years, Bulger frightened, threatened, intimidated, murdered, extorted, dealt drugs to, and robbed residents of Boston. The South Boston native is suspected of taking part in 19 murders – seven by his own hand – executed with such brutality that Bulger was at one point second only to Osama bin Laden on the FBI's 'Most Wanted' list.
CNN Films' WHITEY: United States of America v. James J. Bulger is a revelatory nonfiction feature film that follows the sensational 2013 trial of the notorious mob boss. Produced by Radical Media, in association with Third Eye Motion Picture Company, this riveting, two-hour film is directed and produced by Joe Berlinger and produced by Caroline Suh. It will premiere at 9:00pm and 11:00pm Eastern on Thursday, Sept. 18, on CNN/U.S..
Using the courtroom action as a springboard to examine accusations of multifaceted corruption within our nation's law enforcement and legal systems, the film explores new evidence that Bulger may have been aided and abetted by our nation's top law enforcement agencies that knew about his crimes – and even helped cover them up.
The film includes the voice of James Bulger himself, in his first-ever media interview. Bulger, who responds to questions via telephone with his defense attorney J.W. Carney, Jr., for the film, discusses his relationships with investigators, his negotiations with prosecutors, and his proposal to plead guilty in an attempt to absolve his long-time girlfriend, Catherine Greig, with whom he lived as a fugitive for more than 15 years.
"The goal of including Bulger in the film was not to take sides or to diminish his crimes," says director Joe Berlinger. "Bulger is a brutal killer and deserves to be behind bars. However, the families of the victims deserve to hear why Bulger was allowed to kill with impunity."
The production team embedded for months with victims' families, FBI agents, Massachusetts State Police, federal prosecutors, Bulger's defense attorneys, and former gangsters, for extraordinary access to explore the allegations of corruption within the highest levels of law enforcement. The film pulls back the curtain on long-held Bulger mythology, detailing shocking, new allegations of collusion, and accusations of federal and police corruption.
"What makes this trial extraordinary – and really crazy – is the defense is defending him from an assertion that he was an informant– even though it is not a charge…It's not about guilt or innocence in this trial. It's about his legacy – of wanting to establish he wasn't a tout, a rat, an informant…," David Boeri, senior reporter for Boston's WBUR radio says in the film.
"We commissioned this film as a way to present – and challenge – the allegations of conspiracy and government and police corruption that have surrounded this case," said Vinnie Malhotra, senior vice president for development and acquisitions for CNN Worldwide.   "Berlinger and his team have masterfully woven multiple perspectives of the Whitey Bulger case into a provocative story of crime and punishment."
WHITEY premiered as a critically-acclaimed official selection at the 2014 Sundance Film Festival. It has since been an official selection at the Hot Docs, AFI Docs, Sheffield Doc/Fest, and Full Frame film festivals, and has had a very successful theatrical exhibition in commercial theaters in 2014.
In addition to the telecast, WHITEY will be available, in simulcast on Sept. 18, via CNNx for iPad, as well as through "Watch CNN" via www.cnn.com, and CNN's mobile applications.   The film will also encore on CNN/U.S. on Saturday, Sept. 20, at 9:00pm and 11:00pm Eastern.
More information about Bulger's life of crime, years as a fugitive, and complete digital coverage of his trial are available via www.cnn.com/whitey. Social media users may interact with the producers and other people associated with the film during the premiere broadcast of the film through following @CNNFilms via Twitter.
Upcoming CNN Films include DINOSAUR 13, about paleontologist Peter Larson's multiyear odyssey to bring his history-making find of the Tyrannosaurus rex "Sue" to the world; IVORY TOWER, which examines the financial value of a traditional college education; and LIFE ITSELF, a biographical profile of renowned film critic Roger Ebert.
About CNN Films
CNN Films brings documentaries beyond the small screen by developing strategic partnerships to leverage distribution opportunities at film festivals and in theaters, acquiring films for broadcast on CNN, and providing finishing funds for collaborative film productions.  Amy Entelis, senior vice president of talent and content development for CNN Worldwide, and Vinnie Malhotra, senior vice president of development and acquisitions for CNN Worldwide, oversee the strategy for documentaries for CNN Films.  Malhotra manages the day-to-day operation of CNN Films, and works directly with filmmakers to develop original projects.  For more information about CNN Films, please visit www.cnn.com/CNNFilms.
About CNN
CNN Worldwide is a portfolio of two dozen news and information services across cable, satellite, radio, wireless devices and the Internet in more than 200 countries and territories worldwide. Domestically, CNN reaches more individuals on television, the web and mobile devices than any other cable TV news organization in the United States; internationally, CNN is the most widely distributed news channel reaching more than 271 million households abroad; and CNN Digital is a top network for online news, mobile news and social media. Additionally, CNN Newsource is the world's most extensively utilized news service partnering with hundreds of local and international news organizations around the world. CNN is division of Turner Broadcasting System, Inc., a Time Warner Company.
-30-