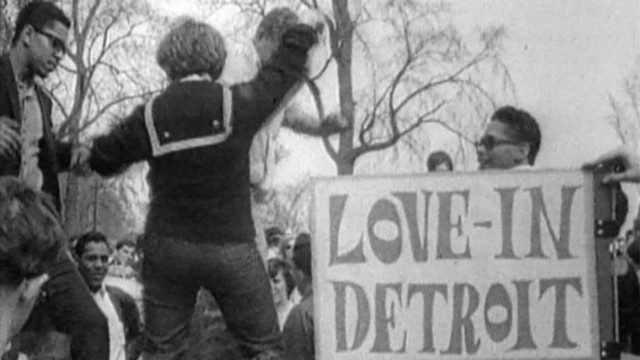 The Sixties
August 14th, 2014
THE SIXTIES series finale: Sex, Drugs, and Rock n' Roll airs tonight at 9pm Eastern
The final episode of the now Emmy® award-nominated THE SIXTIES explores the counterculture, the legendary music, and the sweeping political change that ushered out the decade.
The fundamental changes in American culture in the 1960s influenced global changes in the ways people viewed authority, war, societal norms, and the practice of populist politics. Tom Wolfe, Jann Wenner, Grace Slick, Graham Nash, Michael Butler and James Rado, Douglas Brinkley, Mark Kurlansky, Ric Burns, Vincent Bugliosi, and others review how the beatniks and folk music scene of the early '60s evolved to the hippies and psychedelic rock of the later years. They also explore how Haight-Ashbury, "the Summer of Love" and Woodstock, Andy Warhol, Timothy Leary, Ken Kesey, Yippies, Dead-Heads, Charles Manson, and Hell's Angels became enduring counter-cultural touchstones.
THE SIXTIES: Sex, Drugs, and Rock n' Roll debuts Thursday, Aug. 14 at 9:00pm Eastern.
During the broadcast, former U.S. Congressman Barney Frank and rock journalist David Wild will answer viewers' questions via Facebook.   Viewers can also interact with the series producers via Twitter by following @TheSixtiesCNN and @HerzogCo and using #TheSixtiesCNN.
Executive produced by multiple Emmy® award-winning producers Tom Hanks and Gary Goetzman (HBO's John Adams and The Pacific) of Playtone, and Emmy® award-winning producer Mark Herzog (History's Gettysburg) of Herzog & Co. (HCO), THE SIXTIES explores the landmark era of cultural, political, and technological change during the 1960s, infusing new relevance to the cultural touchstones that changed the world.  THE SIXTIES airs Thursdays at 9:00pmET on CNN/U.S.  More information about THE SIXTIES may be found by visiting www.cnn.com/sixties.
###