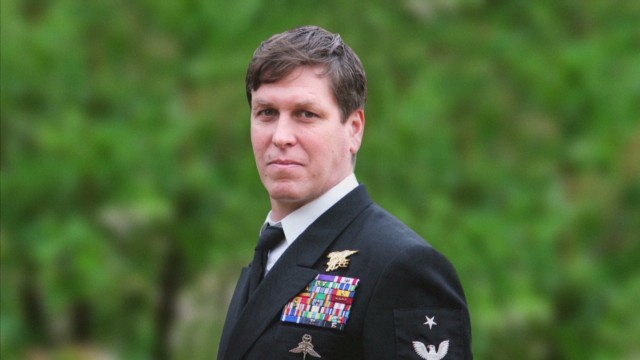 CNN Special Programming & Documentaries
August 13th, 2014
Her new mission: retired U.S. Navy SEAL fights for transgender acceptance in new CNN Film
World television premiere of LADY VALOR: The Kristin Beck Story is Thursday, Sept. 4
Despite 20 years as a U.S. Navy SEAL, including 13 tours of combat service in Iraq and Afghanistan, Kristin Beck says that her struggles for acceptance and respect as a transgender American represent her most difficult mission.  Beck is a highly-decorated veteran who once stood atop Saddam Hussein's palace, trained in special tactical warfare, and served on SEAL Team 1, SEAL Team 5, and SEAL Team 6 as senior chief Christopher Beck of the U.S. Navy.
Executive produced by Herzog & Company (HCO) in association with Easy Day Media Group, LADY VALOR: The Kristin Beck Story, is produced by Mark Herzog and Christopher G. Cowen and directed by Sandrine Orabona and Mark Herzog.  The two-hour film will premiere on CNN/U.S. on Thursday, Sept. 4, at 9:00pm and 11:00pm Eastern.
In 2013, approximately 18 months after her retirement from active service, Beck was the first person to come out publicly as a transgender former Navy SEAL in an extended profile on CNN's Anderson Cooper 360° – surprising friends, colleagues, and family.  She also disclosed her identity on LinkedIn.   While many around her have been supportive, some have expressed more bigotry than she ever expected.
"CNN Films is proud to have commissioned such a unique and important film.  LADY VALOR is a powerful statement on our preconceived notions and prejudices of transgender Americans.  Kristin Beck is a dynamic individual, whose outspoken voice allows us a deeper understanding of such an emotionally intense, personal transformation," said Vinnie Malhotra, senior vice president of development and acquisitions for CNN Worldwide.
During the film, Beck also returns to her college, Virginia Military Institute, for her 25th class reunion.  Gazing out onto a football field, she points to the men and women participating in the game activities and says: "some of us need to have a little different journey.  That's what we defend.  That's what all these young men right here defend."
LADY VALOR premiered as an official selection of the SXSW Film Festival and has since been an official selection at Hot Docs, Outfest Los Angeles, The Human Rights Watch Film Festival, and Frameline38 festivals in 2014.  LADY VALOR will be available, in simulcast on Sept. 4, through CNNx for iPad, as well as through "Watch CNN" via www.CNN.com, and CNN's mobile applications.   The two-hour film will also encore on CNN/U.S. on Saturday, Sept. 6, at 9:00pm and 11:00pm Eastern.
Beck's personal reflections and more information about her active duty service will be published via www.CNN.com/ladyvalor before the premiere of the film on CNN/U.S.  More information about LADY VALOR may also be found by visiting www.LadyValor.com and by following @CNNFilms and @theLadyValor via Twitter.
Upcoming CNN Films include WHITEY: The United States of America v. James J. Bulger, about the crimes, capture, and conviction of the notorious Boston gangster; DINOSAUR 13, about paleontologist Peter Larson's multiyear odyssey to bring his history-making find of the Tyrannosaurus rex "Sue" to the world; IVORY TOWER, which examines the financial value of a traditional college education; and LIFE ITSELF, a biographical profile of renowned film critic Roger Ebert.
About Herzog & Company (HCO)
Herzog & Company is an EMMY Award-winning television production company based in Los Angeles.  Founded in 1995, the company was originally established as a theatrical marketing firm (Pirates of the Caribbean, Transformers). Over the past 20 years and via numerous collaborations, the company has evolved into a very dedicated and creative group of people now working under the banner of Herzog & Company/HCO.  HCO produces original television programming for network, cable, and web platforms, while continuing to produce robust theatrical marketing campaigns and creative content for all major studios' film and television entertainment.
HCO's Original Programming division is currently in production on THE SIXTIES, the EMMY-nominated 10-part series for CNN Original Series.  They recently completed production on STATE OF PLAY, a multi-part documentary series produced in association with Film 44 for HBO and FIGHT GAME with Jim Lampley, also for HBO.  In 2013, HCO produced the two-hour film KILLING LINCOLN for National Geographic Channel, which broke ratings records for the network and garnered two EMMY nominations.  HCO also produced the two-hour event film GETTYSBURG for the History Channel, which was nominated for eight EMMY Awards and won four, including Best Nonfiction Special.
About CNN Films
CNN Films brings documentaries beyond the small screen by developing strategic partnerships to leverage distribution opportunities at film festivals and in theaters, acquiring films for broadcast on CNN, and providing finishing funds for collaborative film productions.  Amy Entelis, senior vice president of talent and content development for CNN Worldwide, and Vinnie Malhotra, senior vice president of development and acquisitions for CNN Worldwide, oversee the strategy for documentaries for CNN Films.  Malhotra manages the day-to-day operation of CNN Films, and works directly with filmmakers to develop original projects.  For more information about CNN Films, please visit www.cnn.com/CNNFilms.
About CNN
CNN Worldwide is a portfolio of two dozen news and information services across cable, satellite, radio, wireless devices and the Internet in more than 200 countries and territories worldwide. Domestically, CNN reaches more individuals on television, the web and mobile devices than any other cable TV news organization in the United States; internationally, CNN is the most widely distributed news channel reaching more than 271 million households abroad; and CNN Digital is a top network for online news, mobile news and social media.  Additionally, CNN Newsource is the world's most extensively utilized news service partnering with hundreds of local and international news organizations around the world.  CNN is division of Turner Broadcasting System, Inc., a Time Warner Company.
-30-