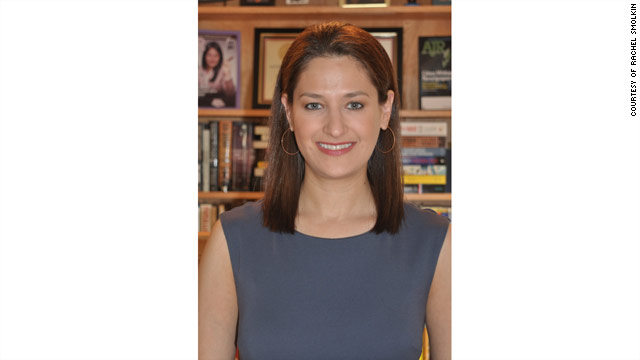 CNN
July 29th, 2014
Meet Rachel Smolkin, New Executive Editor of CNN Politics
If you're a political news junkie or you hang your hat in our nation's capital, there's a good chance you already know CNN Digital's new Executive Editor of Politics. If not, meet the smart and savvy Rachel Smolkin.
Rachel will take the reins of CNNPolitics.com at the end of August, helping Ed O'Keefe, Meredith Artley, Sam Feist, Andrew Morse and David Chalian to rethink the network's political coverage and re-imagine CNN Politics.
No stranger to the grind, Smolkin joins CNN from POLITICO where she most recently served the sites as managing editor for news. In that position she supervised beat editors and worked closely with the video and events groups. Prior to that she supervised the White House and legal affairs team as an assignment editor for USA Today, and she held the managing editor title for American Journalism Review.
And while we could go on and on about Rachel's bright, shiny resume and career accomplishments, we opted instead for 10 questions with our new pal. So read on and join us in welcoming @RachelSmolkin to @CNN.
What's the best career advice you've ever received?
Follow your gut, and have fun. Journalism is a fabulous adventure – always look for new ways to learn and to enjoy doing so.
What drew you to politics?
I went to college planning to major in theater and discovered that the best drama could be found in politics – the outsized personalities, the zest for playing to an audience, the defeats and the triumphs, and even (especially in Washington) the theater of the absurd.
What's your guilty pleasure?
Mystery novels – just finished the wonderful Inspector Gamache series by Louise Penny, recommended by a friend. I won't give anything away, but the last one is the best!
What's the biggest challenge about covering Washington?
Canned answers and boring talking points – it's the surprises that make covering politics so exciting, the moments of unpredictability and authenticity.
Summarize the upcoming mid-term elections in 3 words or less.
Balance of power
If you were a carbonated beverage, what would you be and why?
I'm a Texan, so I'll go with Dr Pepper – unless Shiner Bock counts?
What do you hope to bring to CNN?
A passion for politics in the digital space — the 2016 presidential race is going to be fascinating, and it will challenge all of us to deliver the smartest, sharpest and most entertaining coverage we can to our readers and viewers during a time of great experimentation and transformation in the industry.
When was the last time you lost your cool?
My daughter insists that never happens! I'm pretty sure she was being sarcastic, but I chose not to ask.
If you had to cover any other beat, what would it be and why?
Theater critic – though is that really different?
If you could have dinner with anyone dead or alive, who would it be and why?
Maud Hart Lovelace – I fell in love with her Betsy-Tacy series as a child and, like Betsy, dreamed of growing up and becoming a writer. My mom introduced me to the books, and now my daughter is reading them — though I'll probably need to find something else for my son.
Bonus: With which current member of Congress would you most like to be trapped in an elevator?
Sen. Rand Paul and Sen. Elizabeth Warren – preferably together.