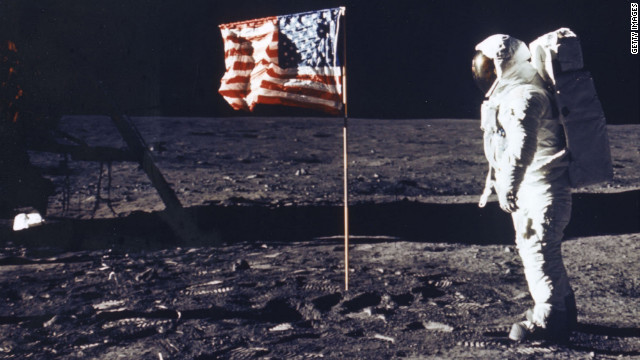 The Sixties
July 24th, 2014
THE SIXTIES: The Space Race debuts tonight on CNN at 9:00pmET and PT
In fewer than 10 years, America rocketed from launching rudimentary satellites to landing a man on the Moon.
Pioneers like Werner Von Braun and heroes like Alan Shepard, John Glenn, and Neil Armstrong, pushed the boundaries of U.S. space exploration to literally unprecedented heights. Throughout the decade, the rivalry between America and the Soviet Union raised the stakes on the competition that went even beyond the "giant leap for mankind" and led to astonishing technological inventions. Astronaut and NASA Administrator Charles Bolden, and astronauts Buzz Aldrin, Mike Massimino and Dave Scott, along with Tom Wolfe, Andy Chaikin, Walter Isaacson, Douglas Brinkley, and Tom Hanks describe one of the greatest real-life adventure stories of all time.
THE SIXTIES: The Space Race debuts Thursday, July 17 at 9:00pm and encores at 12:00am.  All times Eastern.
During the broadcast, NASA engineer Bobak Ferdowsi will answer viewers' questions about America's space program – past and present – via Facebook.   Viewers can also interact with the series producers via Twitter by following @TheSixtiesCNN and @HerzogCo and using #TheSixtiesCNN.
Executive produced by multiple Emmy® award-winning producers Tom Hanks and Gary Goetzman (HBO's John Adams and The Pacific) of Playtone, and Emmy® award-winning producer Mark Herzog (History's Gettysburg) of Herzog & Co. (HCO), THE SIXTIES explores the landmark era of cultural, political, and technological change during the 1960s, infusing new relevance to the cultural touchstones that changed the world.  THE SIXTIES airs Thursdays at 9:00pmET on CNN/U.S.  More information about THE SIXTIES may be found by visiting www.cnn.com/sixties.
###