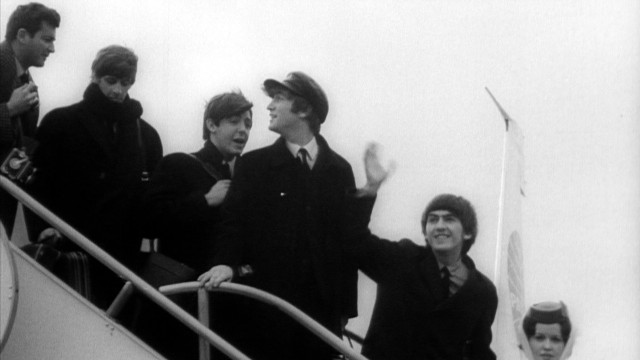 The Sixties
July 10th, 2014
The British are coming…tonight at 9pmET on THE SIXTIES on CNN
When Ed Sullivan uttered, "Ladies and gentlemen, the Beatles," the "lads from Liverpool" and their thrilling performance on Sullivan's eponymous variety show enthralled millions and launched a reciprocal exchange of influences with American artists. The music was a revelation – and, inspired a revolution in fashion, hairstyles, advertising, politics, and sexual mores that influenced nearly every aspect of American life. Smokey Robinson, Michelle Phillips, Graham Nash, Eric Bourdon, Dave Clark, Mickey Dolenz and others recall what it was like to make the music that mirrored the souls of the young and the restless. Jann Wenner, Mikal Gilmore, Patrick Goldstein, Nelson George, Bill Janovitz, John Heilemann, Tom Hanks, David Wild, and musicians Eric Burdon, Paul Schaffer, andQuestlove describe how this legendary music era did so much more than provide a soundtrack for the generation of change.
THE SIXTIES: The British Invasion debuts tonight, Thursday, July 10 at 9:00pm and encores at 11:00pm and 1:00am Eastern.
During the broadcast, music journalist David Wild and rock artist Susanna Hoffs will answer viewers' questions about music from the era via Facebook.   Viewers can also interact with the series producers via Twitter by following @TheSixtiesCNN and @HerzogCo and using #TheSixtiesCNN.
Executive produced by multiple Emmy® award-winning producers Tom Hanks and Gary Goetzman (HBO's John Adams and The Pacific) of Playtone, and Emmy® award-winning producer Mark Herzog (History's Gettysburg) of Herzog & Co. (HCO), THE SIXTIES explores the landmark era of cultural, political, and technological change during the 1960s, infusing new relevance to the cultural touchstones that changed the world.  THE SIXTIES airs Thursdays at 9:00pmET on CNN/U.S.  More information about THE SIXTIES may be found by visiting www.cnn.com/sixties.
###