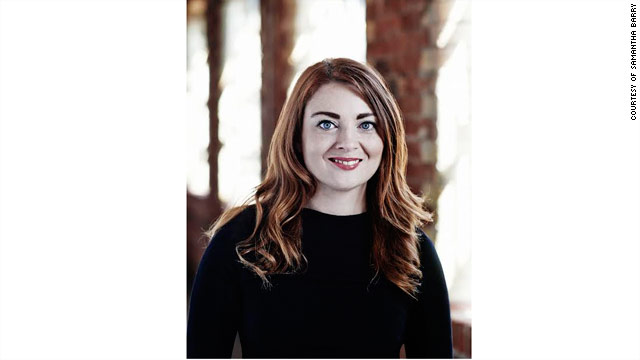 Digital
June 25th, 2014
Meet CNN's New Head of Social News
Joining CNN from across the pond is the lovely and talented Samantha Barry – new senior director of social news.  She comes to our fair network from BBC World News where she's been working with both their TV and digital teams to make the most of their news coverage across social platforms.  Hailing from Ireland and currently living in London, "Sam" has worked in over 25 countries — from Iraq to Nigeria — as a media trainer for the U.S. State Department.  At CNN, she'll harness our massive social footprint and really turn up the heat on engagement.  In addition, Sam will be charged with reimagining and amplifying the power of CNN iReport.  She'll be based in New York and report to Meredith Artley, VP and Managing Editor, CNN Digital.
Rather than posting another boring press release, CNN PR decided to mix things up with ten questions to help get to know Samantha Barry.  Read on and join us in welcoming her to CNN: @samanthabarry.
What's the biggest mistake people make in social media?
The biggest mistake I have seen people and organisations make on social media is that they treat it like a website in the 90's.  They use it to disseminate information in a formal and let's face it- boring way. Social media is a whole different beast. You need to be engaging, join and lead conversations, understand how and when your audience uses those platforms. Simply put you need to ask yourself "would I share this to my network?"
What's your guilty pleasure?
80s power ballads.
If you were a carbonated beverage, what would you be and why?
Prosecco- I am European and bubbly.
You've travelled all over the world. Which country is your favorite and why?
That's like picking a favourite child! It's so hard. I love Argentina for steak and wine, Papua New Guinea for the diversity, Myanmar and Pakistan for the lovely hosts.
Why CNN?
CNN is a global leader in news and has a large and loyal following on social media. There isn't a country that I've been to that doesn't have CNN playing on the hotel TV. The organisation is doing some very innovative things in the digital arena and I am very excited to play a vital role in making social news a priority.
Why do you love social media?
What's not to love? It has changed how people engage with the news. News on social media is not a monologue like some traditional media. It's a conversation – individuals give personal insights, push a news agenda and contribute by sending in photos. Social media is now the place where many people first find out about a breaking news story – what they do on the rest of that news journey (turn on the TV, click through to a website, buy a newspaper) often depends on the type of news they are exposed to on their social networks.
What was the proudest moment in your career?
I have done a lot of work with journalists internationally for the US State Department, BBC Media Action, Internews and others. My proudest moments have been when I see the impact of my training- organising an outside broadcast with a group of Burmese journalists who had lived under the cloak of censorship, seeing an Iraqi journalist winning an award in mobile journalism after I taught him how to use his smartphone to record, edit and upload stories.
What's the most important piece of advice for engaging in social media?
Ask questions and listen to your audience.
When was the last time you lost your cool?
Silvestre Varela's 95th minute equaliser against the USA in Brazil on Sunday. Despite Ireland not making it through to the World Cup this time, I have been gripped by some of the matches.
If you could have dinner with anyone dead or alive, who would it be and why?
My family. We might need a private jet to make it happen – my sister is in Australia, my brother is in Spain and my parents are in Cork, Ireland and I will be in New York. But it would be great craic.