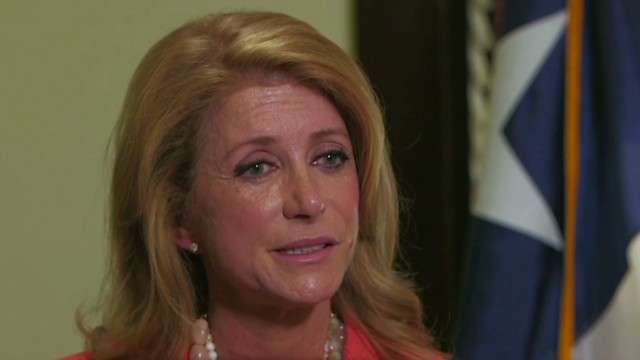 CNN
June 24th, 2014
Wendy Davis sits down with CNN's Gloria Borger
One year after her filibuster, Wendy Davis talks with CNN's Gloria Borger about the national attention, Texas politics and more. Highlights from the interview are below and a full program transcript is posted on http://archives.cnn.com/TRANSCRIPTS.
THIS IS A RUSH TRANSCRIPT. THIS COPY MAY NOT BE IN ITS FINAL FORM AND MAY BE UPDATED.
BORGER:  Would you just say they were mistakes, they were oversights?
DAVIS:  Yes, most women — and I've had so many women say this to me — the date of their divorce is the date they ceased to live together as man and wife with their husband.  I was a struggling single — on my way to being a single mom — when I was only 19.
BORGER:  What do you say to those who say you were shading the record to play into your overall narrative?
DAVIS:  What I say is that I'm proud of my story.  My story is my story.
—-
BORGER:  What if you don't win?
DAVIS:  I just don't think like that, Gloria.  I went into this race believing that I would win it.  And I have been accustomed to being counted out before.  But I would imagine a lot of folks would have counted me out way back when I was living in that trailer on my own, wondering how I was going to survive.  I am a fighter.
Thank you for standing up for me, truly.  I really appreciate it.
###