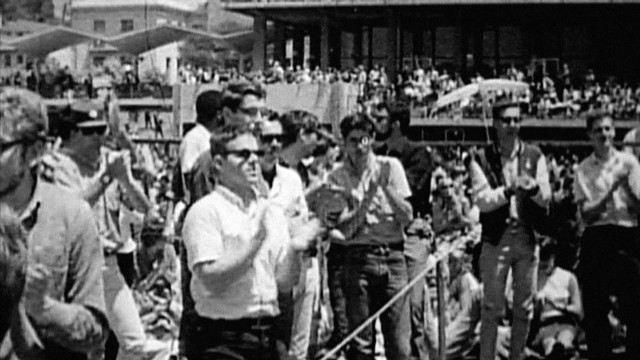 The Sixties
June 19th, 2014
THE SIXTIES: The War in Vietnam (1961 – 1968)
The escalation of the war in Vietnam meant troop levels soared from just several hundred advisors at the beginning of the decade, to hundreds of thousands of American troops by the end of it. The mounting casualties, and the stories reported from the warfront from the troops who did the fighting and the dying, influenced social and political polarization around the war back home. The war's increasing unpopularity altered how Americans viewed their government – and authority in general. The publicly-touted optimism veiled the private doubts of presidents Kennedy and Johnson – and their Defense Secretary Robert McNamara. Vietnam veterans Karl Marlantes, Philip Caputo, and Tim O'Brien, historians Fredrik Logevall, Robert Dallek, George Herring, Andrew Bacevich, and journalists Neil Sheehan and Marvin Kalb discuss one of the most complex of American stories.
More information about THE SIXTIES may be found by visiting www.cnn.com/sixties.
In addition to the unique Facebook engagement, viewers can also interact with producers and people who appear in THE SIXTIES via Twitter by following @TheSixtiesCNN and using #TheSixtiesCNN.
Executive produced by multiple Emmy® award-winning producers Tom Hanks and Gary Goetzman (HBO's John Adams and The Pacific) of Playtone, and Emmy® award-winning producer Mark Herzog (History's Gettysburg) of Herzog & Co. (HCO), THE SIXTIES explores the landmark era of cultural, political, and technological change during the 1960s, infusing new relevance to the cultural touchstones that changed the world.  THE SIXTIES airs Thursdays at 9:00pmET on CNN/U.S..
###