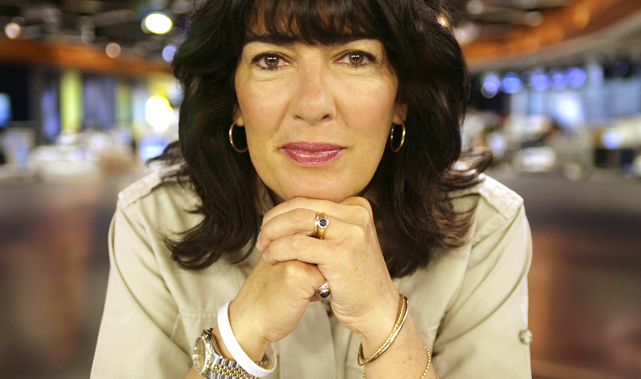 Amanpour
June 12th, 2014
CNN and Tumblr Team Up for Live Hillary Clinton Town Hall: Hard Choices
Users Can Submit Questions for Hillary Clinton
CNN and Tumblr have teamed up for the first time to invite viewers worldwide to submit questions to Hillary Clinton for CNN's Global Townhall, moderated by Christiane Amanpour.
"CNN has a history of pushing the envelope on interactive television, and this partnership with Tumblr continues the tradition of inviting the creativity of our audience to enrich our television event, and to inform our questioning." Michelle Jaconi, said Executive Producer of Cross Platform Programming.
Viewers will be able to submit questions – in any form (text, video, animated gif) – via CNN's event Tumblr: http://hillarytownhall.tumblr.com/, and CNN's chief international correspondent Christiane Amanpour will pose some of the best to Clinton during CNN's live broadcast.
Amanpour will moderate the only network televised town hall with former Secretary of State Hillary Clinton on Tuesday, June 17th at 5 pm ET. The special broadcast before a live audience selected by CNN, will take place at the Newseum in Washington DC.  The Town Hall will air on CNN and simulcast worldwide on CNN International and CNN en Espanol.
Additionally, on CNN Digital, CNN and Tumblr will liveblog the event and curate a conversation on Tumblr about the questions and most creative entries.
"Tumblr was designed to empower the creative community to express themselves and connect over their passions, which are increasingly around the serious issues that are impacting today's world and their lives," said Sima Sistani, Director of Media at Tumblr. "By teaming up with CNN in our first news network partnership, we're honored to give our community a resounding voice and a global stage to be heard."
Social media users can follow and contribute to CNN's coverage by using #CNNTownhall.  The Town Hall will re-air on CNN Tuesday, June 17th at 9 pm ET.
 About CNN
CNN Worldwide is a portfolio of two dozen news and information services across cable, satellite, radio, wireless devices and the Internet in more than 200 countries and territories worldwide. Domestically, CNN reaches more individuals on television, the web and mobile devices than any other cable TV news organization in the United States; internationally, CNN is the most widely distributed news channel reaching more than 271 million households abroad; and CNN Digital is a top network for online news, mobile news and social media.  Additionally, CNN Newsource is the world's most extensively utilized news service partnering with hundreds of local and international news organizations around the world. CNN is division of Turner Broadcasting System, Inc., a Time Warner Company.
 About Tumblr
Tumblr is a media network powered by an army of independent creators and home to an audience of more than 300 million unique visitors. Founded by David Karp in 2007, Tumblr is headquartered in New York City.
 ###