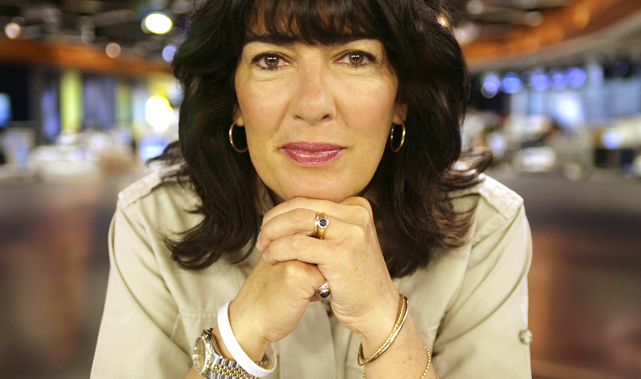 CNN
June 3rd, 2014
CNN's Christiane Amanpour To Moderate A Live Exclusive Town Hall With Former Secretary Of State Hillary Rodham Clinton Following The Release Of Her New Book, "Hard Choices"
CNN chief international correspondent Christiane Amanpour will moderate the only network televised town hall with former Secretary of State Hillary Clinton on Tuesday, June 17th at 5 pm ET. The special broadcast before a live audience selected by CNN, will take place at the Newseum in Washington DC. The Town Hall will air on CNN and simulcast worldwide on CNN International and CNN en Espanol.
Hillary Clinton will discuss her new memoir "Hard Choices." The book, which goes on sale on June 10th, tells the story of the former first lady's four years as America's top diplomat. She will take questions from Amanpour and members of the public with no subjects off limits. Leading up to the broadcast, Jake Tapper will anchor a special hour of The Lead live from the Newseum. Following the Town Hall, Wolf Blitzer will anchor The Situation Room from the Newseum where he will speak to members of the audience.
The Town Hall will re-air on CNN Tuesday, June 17th at 9 pm ET.
Christiane Amanpour is CNN's chief international correspondent, with a career in hard-news journalism spanning three decades. She has reported from every major news event and hotspot, and has interviewed most of the world's top leaders. Amanpour has earned every major television journalism award including an inaugural Television Academy Honor, eleven News and Documentary Emmy® Awards, four George Foster Peabody Awards, two George Polk Awards, three duPont-Columbia Awards, the Courage in Journalism Award, an Edward R. Murrow award, and a Giants of Broadcasting honor from the Library of American Broadcasting. She also anchors Amanpour, a nightly foreign affairs program on CNN International.
About CNN
CNN Worldwide is a portfolio of two dozen news and information services across cable, satellite, radio, wireless devices and the Internet in more than 200 countries and territories worldwide. Domestically, CNN reaches more individuals on television, the web and mobile devices than any other cable TV news organization in the United States; internationally, CNN is the most widely distributed news channel reaching more than 271 million households abroad; and CNN Digital is a top network for online news, mobile news and social media. Additionally, CNN Newsource is the world's most extensively utilized news service partnering with hundreds of local and international news organizations around the world. CNN is division of Turner Broadcasting System, Inc., a Time Warner Company.
###