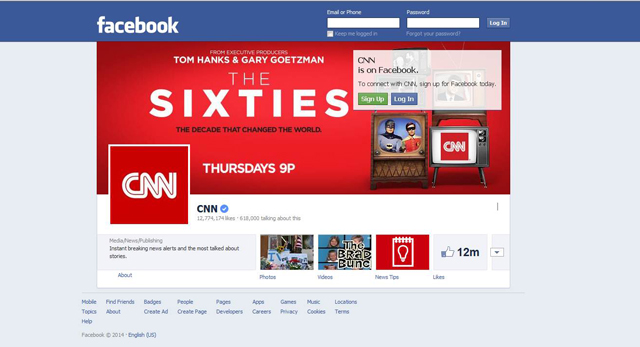 The Sixties
May 29th, 2014
CNN and Facebook Join for THE SIXTIES
CNN and Facebook Announce Strategic Partnership for Exclusive Video and Social Media Content to Create Multidimensional User Experience
CNN and Facebook today announced plans to join together for a unique viewer engagement initiative that will extend the experience of the new CNN series, THE SIXTIES, beyond television screens for Facebook users. THE SIXTIES, a 10-part series for television executive produced by Tom Hanks, Gary Goetzman, and Mark Herzog, explores the events and people that made the 1960s an extraordinary era of change and achievement in pop culture, civil rights, politics, and technology. The enriched social media engagement will include exclusive video and social media content that will create a unique second screen experience for Facebook users.
"We are delighted to collaborate with Facebook to offer such a rich multimedia experience for viewers of THE SIXTIES," said Andrew Morse, senior vice president of editorial content for CNN/U.S.. "This partnership will drive deeper engagement, and establish a community of viewers, which will explore the content in a variety of ways."
Features of the unique collaboration will include weekly live Q&A chats with historic figures and the series producers during each episode, weekly viral video content on highlights of the period, and exclusive video produced by CNN Digital Studios illustrating the achievements and events of the remarkable decade. Each week, CNN will premiere one original video on Facebook related to the series content, as well as platform other SIXTIES-related video.
"We are excited to partner with CNN to offer people on Facebook exclusive video content and access to newsmakers from the 1960s," said Andy Mitchell, Facebook's director of news and global partnerships. "Through Facebook Q&As with figures from that decade and videos produced for CNN's more than 12 million fans and their friends, CNN will create tremendous awareness and interest in the series using Facebook."
Also each week, CNN and Facebook will collaborate for Q&A chats with celebrities and experts related to the week's new television content. The first Q&A chat will be hosted by Jerry Mathers, star of the television family comedy Leave It to Beaver. Producers from the series will join Mathers for a live online discussion via Facebook, beginning at 9:00pm on Thursday, May 29.
CNN will also create viral content related to events, people, and achievements of the 1960s for Facebook users to share with friends. This content will be designed to be both fun and educational, with an effort to broaden the experience of the series.
More information about THE SIXTIES may be found by visiting www.cnn.com/sixties. In addition to the unique Facebook engagement, viewers can also interact with producers and people who appear in THE SIXTIES via Twitter by following @TheSixtiesCNN and using #TheSixtiesCNN.
The Facebook partnership is one component of a comprehensive viewer engagement campaign in support of THE SIXTIES that includes screening events, a museum-style exhibit installation, as well as radio, television, and outdoor advertising. THE SIXTIES will premiere on CNN/U.S. on Thursday, May 29, at 9:00 p.m. ET and PT and will continue on successive Thursdays through August 7.
About CNN Originals and CNN Worldwide
CNN develops original content through strategic partnerships and commissioned productions for television. Amy Entelis, senior vice president of talent and content development for CNN Worldwide, and Vinnie Malhotra, senior vice president of development and acquisitions for CNN Worldwide, oversee the acquisition strategy of documentaries for CNN. Malhotra manages the day-to-day operations and works directly with filmmakers to develop original projects.  Other CNN Original Series include Anthony Bourdain: Parts Unknown, Morgan Spurlock's Inside Man, Chicagoland, and Death Row Stories.
CNN Worldwide is a portfolio of two dozen news and information services across cable, satellite, radio, wireless devices and the Internet in more than 200 countries and territories worldwide. Domestically, CNN reaches more individuals on television, the web and mobile devices than any other cable TV news organization in the United States; internationally, CNN is the most widely distributed news channel reaching more than 271 million households abroad; and CNN Digital is a top network for online news, mobile news and social media. Additionally, CNN Newsource is the world's most extensively utilized news service partnering with hundreds of local and international news organizations around the world. CNN is division of Turner Broadcasting System, Inc., a Time Warner Company.
-30-