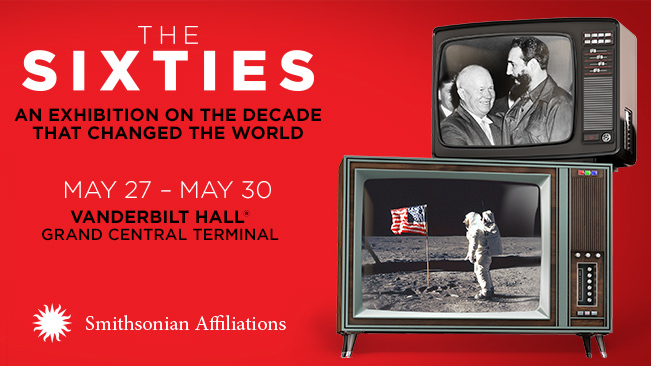 The Sixties
May 28th, 2014
CNN and Smithsonian Affiliations partnered to take "A LOOK INTO THE SIXTIES" at Grand Central Terminal in NYC
In cooperation with eleven Smithsonian Affiliate museums from around the country, CNN installed a museum-style exhibit in Vanderbilt Hall in Grand Central Terminal in New York City celebrating the spirit of the 1960s. Playing homage to the decade's iconic imagery, larger-than-life protagonists, and monumental social, political and cultural changes, "A Look into The Sixties: An Exhibition on the Decade That Changed the World" touched upon all ten of the major themes explored in the documentary series, CNN's THE SIXTIES, executive produced by Tom Hanks and Gary Goetzman.
The items that were on display included the original bench and key from the jail cell in which Dr. Martin Luther King, Jr. penned his famous Letter from a Birmingham Jail, a full flight suit and protective gear recovered from a US pilot whose plane was shot down in Vietnam, rare Beatles memorabilia, original posters and artwork from Woodstock, and a number of other cultural and political artifacts.
For more information, please follow @TheSixtiesCNN via Twitter.
PARTICIPATING SMITHSONIAN AFFILIATES
American Textile History Museum
Birmingham Civil Rights Institute
Durham Museum
Freedom Museum
Greensboro Historical Museum
Kansas Cosmosphere & Space Center
Museum of Flight
National Museum of Nuclear Science & History
Senator John Heinz History Center
Strategic Air & Space Museum
US Space & Rocket Center
OTHER PARTICIPATING MUSEUMS & PRIVATE COLLECTORS
Rock & Roll Hall of Fame and Museum
Museum at Bethel Woods
Museum of Broadcast Communications
Cradle of Aviation Museum
Clemente Museum
Private collection of Allan Kozinn
Private collection of Walter Podrazik
Private collection of Russ Lease
Beatlesuits.com
Gibson
For more information, please follow @TheSixtiesCNN via Twitter.
SCHEDULE OF LIVING ROOM CHATS
Tuesday, May 27
11 am
Woodstock: 45 Years of Peace & Music
Wade Lawrence, museum director, Museum at Bethel Woods
 1 pm
Just the Two of Us: Recalling Gemini
Tom Barry and Jennifer Elliot, educators at the Intrepid Sea, Air & Space Museum
 2 pm
Brothers and Sisters in Arms: The Intersection of the Labor & Civil Rights Movements in the 1960s
Dorian Warren, Association Professor, Department of Political Science and School of International & Public Affairs at Columbia University
Wednesday, May 28, 2014
12 pm
A Firsthand Account of the Stonewall Riots
Tree, bartender and resident historian, The Stonewall Inn
 1 pm
The Whole World Watches: Media & Political Conventions in the 1960s
Walter J. Podrazik, television curator at the Museum of Broadcast Communications, Chicago and co-author, Watching TV: Six Decades of American Television
Thursday, May 29
10 am
Intrepid in Vietnam
Jessica Williams, curator of history, Intrepid, Sea, Air & Space Museum
 12 pm
Television in the 1960s: A Medium at War with Itself
David Bushman and Ron Simon, television curators, The Paley Center for Media
 1 pm
From MLK to Jay Z- Black History is American History
Christopher Moore, Senior Researcher at the Schomburg Center for Research in Black Culture
Friday, May 30
11 am
The Impact of Birth Control: Sex & Family in the 1960s
Linda Gordon, Florence Kelley professor of history, New York University
 1 pm
Launching into History: Project Mercury
Matt Harris, tour guide, Intrepid Sea, Air & Space Museum