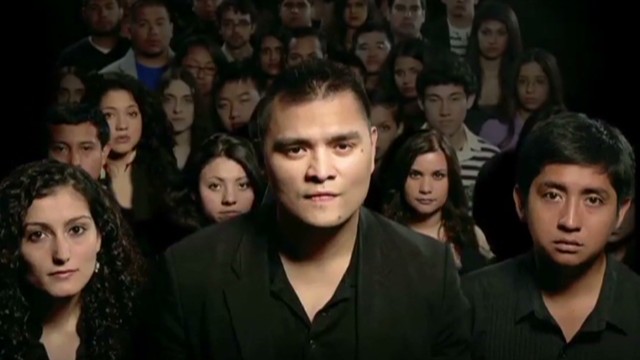 CNN Special Programming & Documentaries
May 22nd, 2014
DOCUMENTED to Bow June 29 After Successful Festival, Theatrical Runs
Television premiere of critically-acclaimed film, DOCUMENTED, debuts at 9:00pm on Sunday, June 29 on CNN/U.S.
CNN announced today that it will broadcast the critically-acclaimed DOCUMENTED, a biographical film that also explores themes of identity and unauthorized immigration through the personal journey of Pulitzer Prize-winning journalist, Jose Antonio Vargas.  DOCUMENTED, which will debut on Sunday, June 29, at 9:00pm and 11:00pm ET on CNN/U.S., premiered at the 2013 AFI Docs Film Festival and is currently in distribution in theaters.
"DOCUMENTED exemplifies CNN's new strategy for long-form nonfiction films: the in-depth examination of major issues of our time.  Jose's personal, revealing narrative, puts faces – including his own – on a major issue, showing what living in the shadows is like for undocumented immigrants across America," said Amy Entelis, senior vice president of talent and content development.
Written and directed by Vargas, with technology entrepreneur Sean Parker, Matthew Hiltzik (Paper Clips), philanthropist Liz Simons, Scott Budnick (The Hangover series), Janet Yang (The Joy Luck Club, The People vs. Larry Flynt), and Kevin Iwashina as executive producers, DOCUMENTED opens with Vargas describing how his journey began to other young people, many of whom live in mixed status immigrant families.
In 2011, Vargas outed himself as an undocumented immigrant in a personal essay in The New York Times Magazine.  At the age of 12 years old, Vargas was sent from the Philippines to live with his mother's parents in Mountain View, CA.  Vargas attended high school and college in California, and pursued a career in journalism, living and working in newsrooms in San Francisco, Philadelphia, New York, and Washington, DC.  In 2008, Vargas earned a Pulitzer prize with his colleagues at The Washington Post for coverage of the 2007 shooting massacre at Virginia Tech University.
While accumulating professional successes, Vargas kept his citizenship status a secret until publishing his groundbreaking essay.  He then began traveling around the country telling his story and listening to others, in part, reigniting the national debate on what defines "American."  Self-reflection during these connections with others,  influenced Vargas' emotional reconnection with his mother, whom he had not seen in 20 years.
As a writer and a filmmaker who is not legally recognized by the country he calls his home, Vargas says his film is an act of civil disobedience and meant to show how "a broken immigration system means broken families and broken lives."  He added, "Immigration is about families and DOCUMENTED is a love story between a mother and son."
DOCUMENTED will be available, in simulcast, through CNNx for iPad, as well as through "Watch CNN" via www.cnn.com and CNN's mobile applications.   The two-hour film will also encore on CNN/U.S. on Saturday, July 5, at 9:00pm and 11:00pm ET.
Personal stories from Vargas' travels and own reflections, and more information about DOCUMENTED will be published on CNN.com before the premiere of the film on CNN/U.S.  More information about the film may be found by visiting www.cnn.com/cnnfilms.
Other upcoming CNN Films include LADY VALOR: The Kristin Beck Story, a film about the personal journey of former U.S. Navy SEAL Christopher Beck, now Kristin Beck; DINOSAUR 13, about paleontologist Peter Larson's multiyear odyssey to bring his history-making find of the Tyrannosaurus rex "Sue" to the world; IVORY TOWER, which examines the financial value of a traditional college education; WHITEY: The United States of America v. James J. Bulger, about the crimes, capture, and conviction of the notorious Boston gangster; and LIFE ITSELF, a biographical profile of renown film critic Roger Ebert.
About CNN Films
CNN Films brings documentaries beyond the small screen by developing strategic partnerships to leverage distribution opportunities at film festivals and in theaters, acquiring films for broadcast on CNN, and providing finishing funds for collaborative film productions.  Amy Entelis, senior vice president of talent and content development for CNN Worldwide, and Vinnie Malhotra, senior vice president of development and acquisitions for CNN Worldwide, oversee the strategy for documentaries for CNN Films.  Malhotra manages the day-to-day operation of CNN Films, and works directly with filmmakers to develop original projects.  For more information on CNN Films, please visit: www.cnn.com/cnnfilms or follow @CNNFilms via Twitter.
About CNN
CNN Worldwide is a portfolio of two dozen news and information services across cable, satellite, radio, wireless devices and the Internet in more than 200 countries and territories worldwide. Domestically, CNN reaches more individuals on television, the web and mobile devices than any other cable TV news organization in the United States; internationally, CNN is the most widely distributed news channel reaching more than 271 million households abroad; and CNN Digital is a top network for online news, mobile news and social media. Additionally, CNN Newsource is the world's most extensively utilized news service partnering with hundreds of local and international news organizations around the world. CNN is division of Turner Broadcasting System, Inc., a Time Warner Company.
-30-