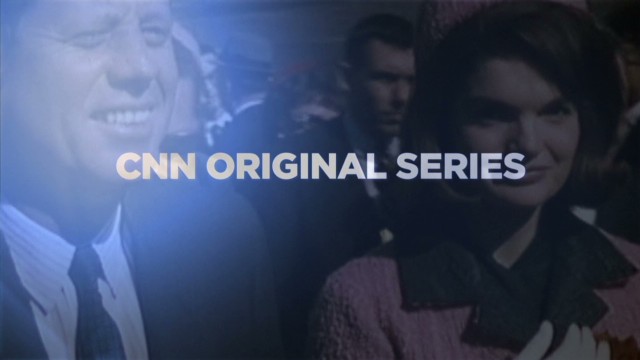 The Sixties
May 20th, 2014
CNN, Smithsonian Affiliates Announce in New York's Grand Central Terminal
11 Smithsonian Affiliates, additional world-class institutions, and private collections, including the Rock & Roll Hall of Fame and Museum, bring the 1960s to life with artifacts from the Cold War, Civil Rights Movement, Woodstock, and more
Exhibit bows during the premiere week of CNN's THE SIXTIES, which debuts May 29 at 9:00pmET and PT
CNN today announced A Look into the Sixties, a special exhibit curated in cooperation with 11 Smithsonian-affiliated museums that will open to the public on Tuesday, May 27, at Vanderbilt Hall in New York City's historic Grand Central Terminal. The exhibit, which celebrates the 1960s — an era of momentous change in America — coincides with the May 29 premiere of THE SIXTIES a new series for CNN, executive produced by Tom Hanks and Gary Goetzman.
"We are so pleased to be partnering with the Smithsonian and its Affiliates on this inspiring, evocative exhibition.  Bringing the series to life through these artifacts adds a unique dimension to our storytelling, and will allow visitors to experience first-hand this look at the 10 dynamic, turbulent years that changed the world," said Jeff Zucker, president of CNN Worldwide.
The exhibit features items emblematic of the people, topics, and events explored in the 10 episodes of THE SIXTIES. Visitors to the exhibit will have the opportunity to see artifacts including the original bench from the Alabama jail cell where Dr. Martin Luther King, Jr. penned his famous Letter From A Birmingham Jail, the in-flight coveralls worn by Neil Armstrong while training for his flight to the moon, original posters from the 1969 Woodstock Festival, and rare Beatles memorabilia from the height of their popularity. Other noteworthy artifacts include:
Models of the Cold War-era Titan II and Minuteman II missiles
Four seats from the Greensboro, N.C., Woolworth store lunch counter where the sit-in movement began in 1960
The infamous Beatles "Butcher" album cover, the original cover art for their album, Yesterday and Today
The television camera used to record to historic Nixon/Kennedy debate, the first-ever televised presidential debate
Roberto Clemente's 1966 Golden Glove Award
All items are generously on loan by 11 Smithsonian-affiliated museums from around the country, as well as other local museums, the Rock & Roll Hall of Fame and Museum, and private collectors.
"We are thrilled to see so many artifacts from nearly a dozen Smithsonian Affiliate organizations on display in this historic location to tell the story of the 1960s," added Harold Closter, director of Smithsonian Affiliations. "This exhibition provides unprecedented exposure to the many quality Affiliate museums across the country and we hope that – by giving the public a taste of what is available to them at these world-class museums – it will encourage more visits and greater interest in their collections."
The exhibit will also feature a 1960s-inspired living room, which will host a series of informal "living room chats" with a diverse group of experts on a variety of historically-themed inspired by the artifacts on display. No reservations are required for the docent-led discussions, but space is limited and places will fill on a first come, first served basis. The following schedule of programs will be presented as living room chats:
Tuesday, May 27
11:00am: Woodstock: 45 Years of Peace & Music – Wade Lawrence, museum director, Museum at Bethel Woods
1:00pm: Just the Two of Us: Recalling Gemini – Tom Barry and Jennifer Elliot, educators at the Intrepid Sea, Air & Space Museum
2:00pm: Brothers and Sisters in Arms: The Intersection of the Labor & Civil Rights Movements in the 1960s – Dorian Warren, associate professor, department of political science, School of International and Public Affairs, Columbia University
Wednesday, May 28
12:00pm: A Firsthand Account of the Stonewall Riots – Tree, bartender and resident historian, The Stonewall Inn
1:00pm: The Whole World Watches: Media & Political Conventions in the 1960s – Walter J. Podrazik, television curator at the Museum of Broadcast Communications, Chicago and co-author, Watching TV: Six Decades of American Television
Thursday, May 29
10:00am: Intrepid in Vietnam – Jessica Williams, curator of history, Intrepid Sea, Air & Space Museum
12:00pm: Television in the 1960s: A Medium at War with Itself – David Bushman and Ron Simon, television curators, The Paley Center for Media
Friday, May 30
11:00am: The Impact of Birth Control: Sex & Family in the 1960s – Linda Gordon, Florence Kelley professor of history, New York University
1:00pm: Launching into History: Project Mercury — Matt Harris, tour guide, Intrepid Sea, Air & Space Museum
A Look Into the Sixties will be on display in Vanderbilt Hall and remain open to the public from Tuesday, May 27 through Friday, May 30. The exhibit is free of charge. In addition to the living room chats, onsite docents will be available in the exhibit area to guide visitors and answer questions about the artifacts. Viewers unable to visit the exhibit in person will be able to experience the exhibit online after the exhibition opens.
THE SIXTIES television series exploring the 10 years that changed the world will premiere on CNN/U.S. on Thursday, May 29, at 9:00 p.m. ET and PT. Viewers can find more information on THE SIXTIES by visiting www.cnn.com/sixties and by following @TheSixtiesCNN via Twitter and using #TheSixties.
About Smithsonian Affiliations
Smithsonian Affiliations is a national outreach program that develop long-term, collaborative partnerships with museums, educational and cultural organizations to enrich communities with Smithsonian resources. There are more than 190 Smithsonian Affiliates in 45 states, Puerto Rico and Panama. More information about Smithsonian Affiliations may be found by visiting http://affiliations.si.edu.
About CNN Originals and CNN Worldwide
CNN develops original content through strategic partnerships and commissioned productions for television. Amy Entelis, senior vice president of talent and content development for CNN Worldwide, and Vinnie Malhotra, senior vice president of development and acquisitions for CNN Worldwide, oversee the acquisition strategy of documentaries for CNN. Malhotra manages the day-to-day operations and works directly with filmmakers to develop original projects.  Other CNN Original Series include Anthony Bourdain: Parts Unknown, Morgan Spurlock's Inside Man, Chicagoland, and Death Row Stories.
CNN Worldwide is a portfolio of two dozen news and information services across cable, satellite, radio, wireless devices and the Internet in more than 200 countries and territories worldwide. Domestically, CNN reaches more individuals on television, the web and mobile devices than any other cable TV news organization in the United States; internationally, CNN is the most widely distributed news channel reaching more than 271 million households abroad; and CNN Digital is a top network for online news, mobile news and social media. Additionally, CNN Newsource is the world's most extensively utilized news service partnering with hundreds of local and international news organizations around the world. CNN is division of Turner Broadcasting System, Inc., a Time Warner Company.
-30-