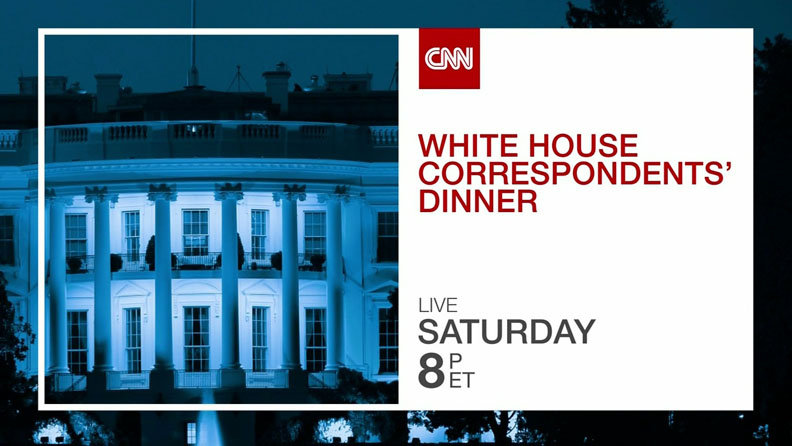 CNN
May 1st, 2014
CNN to Provide Live Coverage of 2014 White House Correspondents' Dinner
On Saturday, May 3, CNN will provide coverage of the White House Correspondents' Association Dinner from 8 p.m. to 11 p.m. The dinner brings together President Barack Obama, First Lady Michelle Obama, congressional leadership, the nation's top newsmakers and Hollywood's A-list.
The network's coverage will be anchored by Don Lemon, with national correspondent Suzanne Malveaux and entertainment correspondent Nischelle Turner. The first two hours of coverage will feature the best moments from past White House Correspondents' dinners and anchor Jake Tapper's one-on-one interview with headliner Joel McHale. The 10 p.m. hour will include live coverage of Pres. Obama's remarks and entertainment by comedian Joel McHale. In addition, CNN Newsroom will provide live updates of the red carpet arrivals during the 6 p.m. and 7 p.m. ET hours. At 11 p.m. the network's coverage of the dinner will have an encore presentation.
CNN Worldwide is a portfolio of two dozen news and information services across cable, satellite, radio, wireless devices and the Internet in more than 200 countries and territories worldwide. Domestically, CNN reaches more individuals on television, the web and mobile devices than any other cable TV news organization in the United States; internationally, CNN is the most widely distributed news channel reaching more than 271 million households abroad; and CNN Digital is a top network for online news, mobile news and social media. Additionally, CNN Newsource is the world's most extensively utilized news service partnering with hundreds of local and international news organizations around the world. CNN is division of Turner Broadcasting System, Inc., a Time Warner Company.
-30-
CONTACT:
Jennifer Scoggins             Washington        202.515.2947     jennifer.scoggins@cnn.com