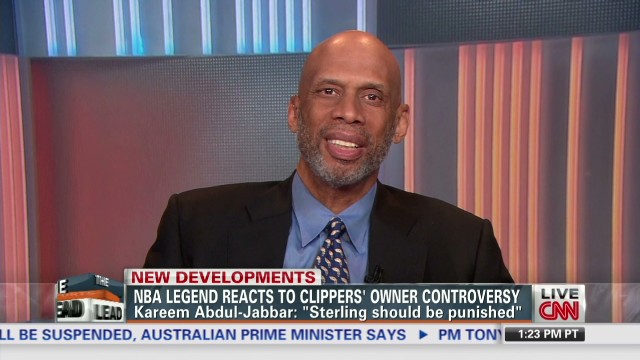 CNN
April 28th, 2014
Kareen Abdul-Jabbar reacts to Sterling
(CNN) – NBA Hall of Fame player Kareem Abdul-Jabbar calls racist comments attributed to Los Angeles Clippers owner Donald Sterling "outrageous."
"We are supposed to be a society that has stepped past that and we see evidence everywhere we look that the bad old days really are not over," Abdul-Jabbar said in an interview with CNN's "The Lead with Jake Tapper."
On Saturday, TMZ posted a 10-minute recording of a phone conversation, reportedly between Sterling and his girlfriend, V. Stiviano. According to the website, Sterling reportedly made discriminatory remarks during an argument he had with her on April 9.
The man alleged to be Sterling seems mad about a photo the woman posted to Instagram with Magic Johnson.
"People call you and tell you that I have black people on my Instagram. And it bothers you," the woman said.
"Yea, it bothers me a lot that you want to promo, broadcast that you're associating with black people. Do you have to?" the man replies.
Abdul-Jabbar – a former Clippers special assistant coach – says he is no audio expert, but the recording sounds like Sterling.
The Clippers owner has been accused of discrimination in the past.
"Mr. Sterling's actions have been persistent. He doesn't respect black people. It's okay if they make him money," said Abdul-Jabbar. "Other than that he has contempt for black people."
In the recording, the man alleged to be Sterling gets defensive when the woman asks if he knows he has "a whole team that is black that plays for you?"
"I support them and give them food, and clothes, and cars, and houses. Who gives it to them? Does that, someone else give it to them?" the man says.
"It's a very paternalistic, racist, plantation type of mentality," says Abdul-Jabbar. "It's in plain English. What else does he need to say?"
The NBA Hall of Famer says Sterling's view is not prevalent among team owners, saying many have done "great things" to promote and advance minorities in the sport.
"Sports has given Americans a chance to make statements about race and about how we feel about it. Think about Jesse Owens in the 1936 Olympics. I think about Jackie Robinson integrating baseball.
"We've used sports to make progress and to bring people together and this is going in exactly the opposite direction. I don't think Mr. Sterling has a place in this landscape," said Abdul-Jabbar.
The NBA cannot exactly force Sterling to sell the team, but it has to do something to show the league "does not support people with his attitude," says Abdul-Jabbar.
"I don't think he belongs in this environment given the way he feels about 80% of the players in the league," says the former NBA star.