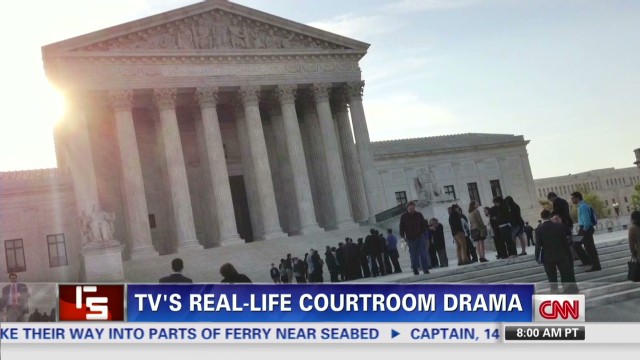 Brian Stelter
April 27th, 2014
Barry Diller talking Aereo Supreme Court case on Reliable Sources
Today on CNN's Reliable Sources hosted by Brian Stelter, Barry Diller, chairman and senior executive at IAC, spoke to CNN in an exclusive interview about the ongoing Aereo Supreme Court case.
During the interview, Diller said to Stelter: "What we did is constructed a technological advance within the law as we understood it."
A transcript of the interview is available after the jump.
TRANSCRIPT:
DILLER
: I'VE ALWAYS THOUGHT THAT AEREO WAS VERY MUCH, JUST A SIMPLY A TECHNOLOGICAL UPDATE TO THE BETAMAX CASE, WHICH IS WHY I THINK THE MOST INTERESTING WAY TO LOOK AT AEREO IS TO LOOK BACK AND SAY WHAT WOULD HAVE HAPPENED IF INSTEAD OF THE SUPREME COURT ALLOWING BETAMAX TO CONTINUE, TO LIVE, WHAT IF THEY HAD SHUT IT DOWN? WHAT WOULD OUR LIFE BE LIKE WITHOUT A VIDEO RECORD— WHAT WOULD OUR TELEVISION AND COMMUNICATIONS BE LIKE WITHOUT THE VIDEO TAPE RECORDER?
DILLER
: OR THE DVR OR ALL OF THE TECHNOLOGY THAT FOLLOWED THAT.
STELTER
: I KNOW I'D WATCH A LOT LESS TV FOR
DILLER
: WHAT IF THAT HAD BEEN SHUT DOWN? IT'S ALMOST LIKE SAYING YOU KNOW WHEN WE THINK ABOUT THESE THINGS WE THINK, WELL YOU KNOW, I MEAN WHAT IF THERE WAS NO TELEPHONE? WHAT IF THEY NEVER DID THAT THING? IN THIS CASE, WHAT IF.. YOU JUST CAN'T CONCEIVE OF IT. WHAT IF THE TELEPHONE, ONE DAY, IN ITS EARLY DEVELOPMENT, THEY SAID NAH, CAN'T DO THIS. I MEAN, YOU CAN'T EVEN CONCEIVE OF WHAT LIFE WOULD BE WHEN YOU LOOK BACK THAT FAR AND SAY WELL THE SUPREME COURT COULD HAVE RELATIVELY EASILY, CERTAINLY EVERY VESTED INTEREST AT THE TIME WANTED TO STOP IT. ALL OF THE CONTENT OWNERS SAID HOW DARE YOU THINK YOU CAN RECORD OUR PROGRAM AND NOT PAY US EVERY TIME. SO THEY COULD HAVE SAID NO. WELL, THEY DIDN'T PROGRESS HAPPENED.
I BELIEVE, AND I'VE GOT AN AX TO GRIND OF COURSE, I BELIEVE THAT AEREO IS THE SAME THING. IF THEY STOP IT, WHICH THEY VERY WELL MAY, THEN I DON'T THINK IT'S THE END OF ANY WORLD, BECAUSE WE'LL PROBABLY NOT REALLY KNOW BECAUSE YOU CAN'T PUT YOURSELF TWENTY YEARS, YOU KNOW, YOU CAN'T MAKE THAT LEAP ON A MAYBE KIND OF. BUT I THINK WHAT WILL HAPPEN IF IT'S STOPPED, IT WILL HAVE PROFOUND EFFECTS ON THE DEVELOPMENT OF TECHNOLOGY.
STELTER
: NOT THE END OF THE WORLD, BUT
STELTER
:  VERY TROUBLING IF…
DILLER
: LOOK, AEREO AS A FINANCIAL ISSUE FOR MY COMPANY IS MEANINGLESS.  WE DON'T HAVE A VERY BIG INVESTMENT.  WE'RE A MINORITY SHARE HOLDER.  IT IS, IT IS POSSIBLY AN ALTERNATIVE TO A COMPLETELY CLOSED SYSTEM AND I LIKE THAT.  I'VE ALWAYS LIKED THAT IN MY LIFE.
STELTER
: SO IF AEREO WINS…
DILLER
: IT'S WHY I STARTED FOX BROADCASTING, IS I SAID I'D LIKE AN ALTERNATIVE TO THE THREE NETWORKS.
STELTER
: IF AEREO WINS, YOU DON'T THINK IT WOULD HURT THE BROADCASTERS?
DILLER
: WELL, LET ME SAY IT THIS WAY.  I THINK…AEREO WILL NOT HURT THE BROADCASTERS FOR SURE.  WHAT MAY HAPPEN THOUGH IS THAT OTHER PEOPLE WILL FIND OTHER METHODOLOGIES SEPARATE FROM AEREO OR USING AEREO AS A LICENSE OR SOMETHING LIKE THAT….BUT THEY'LL FIND OTHER THINGS TO GO DIRECT TO THE CONSUMER BASED UPON THE CONSUMERS RIGHT TO RECEIVE FREE BROADCAST TELEVISION WITHOUT PAYING THE TOLL WHICH IS THEIR RIGHT.  I MEAN, YOU KNOW CONGRESS CAN CHANGE THE LAW WHAT MADDENS ME ABOUT THIS AND ALL THIS REPORTAGE WHICH I THINK HAS BEEN DOPEY….BECAUSE THE ESSENCE OF IT IS…IS THAT AEREO IS ESSENTIALLY, SIMPLY AN ANTENNA DEVICE THAT REPLACES TECHNOLOGICALLY WHAT YOU USED TO HAVE TO DO TO GO UP TO YOUR ROOFTOP AND ERECT AN ANTENNA.  NOW WHAT THE MEDIA REPORTAGE HAS BEEN HAS BEEN THAT AEREO IS A GIMMICK.  JUDGE ROBERTS ASKED A QUESTION WHICH WAS YOU'RE ONLY DOING THIS TO GET AROUND THE COPYRIGHT LAW.
STELTER
: YES, I SCRIBBLED THAT DOWN.  WAS HE WRONG ABOUT THAT?
DILLER
: THE TRUTH IS NOT ONLY IS HE WRONG, IT IS, WHAT WE ARE DOING IS COMPLYING WITH THE LAW.  SO RATHER THAN SAYING IT'S A GIMMICK, WHAT WE DID IS CONSTRUCTED A TECHNOLOGICAL ADVANCE WITHIN LAW AS WE UNDERSTOOD IT.  I UNDERSTAND THAT FREE OVER THE AIR BROADCASTING IS THE QUID PRO QUO THAT BROADCASTERS GOT FOR GETTING A FREE SPECTRUM.  GETTING FREE SPECTRUM WHICH THE PUBLIC OWNED.  UP UNTIL TECHNOLOGY CAME ALONG THERE WAS NO ISSUE WITH THAT BECAUSE THAT WAS THE ONLY WAY YOU COULD GET IT.  CABLE COMES ALONG, ALL THESE THINGS COME ALONG, ALL THE INTERESTS GET INVOLVED, ALL THIS STUFF HAPPENS.  MUST-CARRY HAPPENS.  RETRANS – IM NOT GOING TO YOU KNOW TRY AND DEFINE THAT FOR YOUR AUDIENCE BUT ALL THESE THINGS HAPPEN, BUT THE ONE FUNDAMENTAL OF BROADCASTING SINCE THE VERY BEGINNING IS YOU GET – IF YOU CAN PUT YOUR FINGER OUT THERE AND YOU CAN, YOU'RE IN SIGHT OF A TRANSMITTER, YOU CAN GET THAT PROGRAMMING FREE.
RIGHT? NOW.. SINCE PEOPLE DID NOT THINK AT THE TIME I THINK THEY WROTE THESE RULES– THAT INF ACT PEOPLE WOULD CONSTRUCT THEMSELVES OUT OF USED SCRAP AND WIRES -AN ANTENNA. THEY WOULD ACTUALLY GO TO A STORE, BUY THE ANTENNA
DILLER
: HAVE SOMEBODY PUT IT UP, SERVICE IT, RENEW IT WHATEVER, RIGHT? SO AT THE TIME PEOPLE COULD HAVE SAID, WELL THAT PROFIT – THERE MUST BE A PROFIT IN THERE OR YOUI WOUDLNT PROVIDE A SERVICE, THAT BELONGS TO THE BROADCASTER, THAT BELONGS TO THE PROGRAMMER? WELL THAT'S  ABSURD! THAT'S ALL AEREO IS, A TECHNOLOGICAL UPDATE TO, AND A CLEVER ONE, TO ME WITHOUT QUESTION IT'S CLEVER, AND ITS TECHNOLOGY IS QUITE SOPHISTICATED – THAT DOES EXACTLY THAT.
STELTER
: SOME FO THE PEOPLE COVERING THIS STORY ARE WORKING FOR COMPANIES THAT ARE SUING AEREO
STELTER
: THEY ARE SUING THE COMPANY..DO YOU THINK THAT AFFECTS SOME OF THE COVERAGE?
DILLER
: ALL FO THE COVERAGE WAS ABOUT THE QUESTIONS THE JUDGES ASKED, NOT ABOUT ANY OF THE ANSWERS GIVEN. I THINK THAT TO CONCENTRATE ON THE QUESTIONS RATHER THAN THE ANSWERS,W HAT DOES THAT DO? WELL SINCE ALL THE QUESTIONS ARE- ANY QUESTION IS ASKED SKEPTICALLY. THE QUESTIONS TO, YOU WERE THERE RIGHT, THE QUESTIONS TO THE BROADCASTER WERE SKEPTICAL
STELTER
: YA THEY WERE PRETTY TOUGH
DILLER
: THE QUESTIONS TO THE AEREO WERE SKEPTICAL
STELTER
: I THOUGHT THEY WERE A LITTLE TOUGHER ON AEREO THOUGH, WHAT DID YOU THINK?
DILLER
: NO I DIDN'T THINK SO, I DIDN'T – AND AGAIN, IM NOT OBJECTIVE AND I TRIED SITTING THERE TO LISTEN
DILLER
: I LEFT SAYING – AGAIN, I HAVE AN AXE, BUT I TRIED VERY HARD TO SAY DON'T APPLY YOUR AXE, JUST LISTEN AND SEE WHAT YOU GET
STELTER
: DID YOU LEAVE MORE OR LESS CONFIDENT ABOUT AEREO WINNING?
DILLER
: MORE-AND BY THE WAY, IT MEANS NOTHING
DILLER
: BECAUSE NOBODY KNOWS- YOU KNOW YOU CAN DO ALL THE GAMING AND PEOPLE HAVE DONE IT,
STELTER
: YOU'VE ALWAYS SAID THERES NO PLAN B, IF AEREO LOSES THE SURPEME COURT IT'S OVER
STELTER
: DO YOU THINK IT WILL LOSE?
DILLER
: I THINK THERES A FIFTY PERCENT CHANCE IT WILL LOSE..OF COURSE…YES. ALWAYS I THOUGHT THAT, BUT I THINK IT'S- I DID NOT THINK THAT IT WOULD BECOME THIS IMPORTANT A MOMENT IN THE WORLD OF TECHNOLOGY
STELTER
: YEAH ALL OF THE REPORTING PRESENTED IT AS 'THIS CASE MAY CHANGE THE WAY WE WATCH TV' -NOW MAYBE IM OVERSTATING IT
STELTER
: IT'S NOT GONNA CHANGE, WHEN YOU SAY CHANGE THE WAY WE WATCH TV. AEREO IF IT'S SUCCESSFUL, TOGETHER WITH OTHER SERVICES, MAY CHANGE AND GIVE COMPETITION TO THE CLOSED SYSTEM OF SATELLITE OR CABLE. THAT'S WHAT IT MAY DO.
### END ###