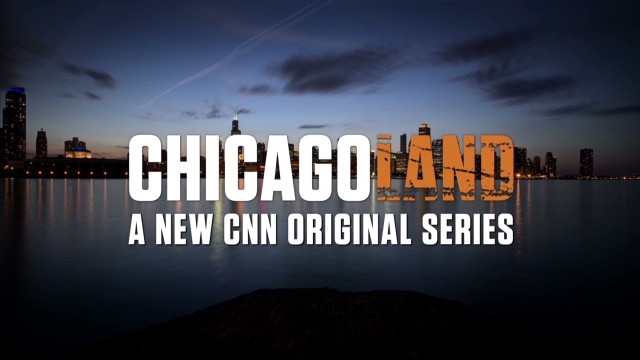 Chicagoland
February 27th, 2014
CHICAGOLAND Roars on CNN March 6 — From Executive Producers Robert Redford, Laura Michalchyshyn, Marc Levin and Mark Benjamin
Viewers will witness the riveting real-life drama of the non-fiction ensemble series CHICAGOLAND beginning March 6 on CNN/U.S.  Executive produced by the Peabody Award-winning team that produced BRICK CITY, CHICAGOLAND explores the challenges and triumphs of a beloved heartland American city, where a mayor, community organizers, business leaders, teachers, entertainers, and residents unite to make a difference in the lives of Chicagoans.
Executive produced by Robert Redford and Laura Michalchyshyn of Sundance Productions, and award-winning filmmakers Marc Levin and Mark Benjamin of BCTV,  the series will explore where politics and policy meet real people's lives – in a city generating change and innovation in social policy, education, and public safety on the local level – to meet national and local challenges.
Each episode in the series will air on eight successive Thursdays, beginning March 6, 2014, at 10:00pm ET and PT.  Beginning Saturday, March 8, the prior week's episode will encore on Saturdays at 8:00pm and 11:00pm ET and on Sundays at 10:00pm and 1:00am ET.
The vibrant, multidimensional character of the city is punctuated by the rich narration of Pulitzer Prize winning journalist Mark Konkol.  In his 19-year reporting career, Konkol brought his uniquely incisive reportage to covering Chicago's neighborhoods, City Hall, and the characters that dwell in them for the Chicago Sun-Times and later for DNAInfo.com.  He infuses his strong, authentic sensibility to CHICAGOLAND.
This intimate series explores Mayor Rahm Emanuel's complex negotiations with the Chicago Public Schools, as he embarks on an historic schools consolidation plan in order to invest resources in modernizing the city.  Viewers will also meet Fenger High School principal Elizabeth Dozier as she mentors her students and attempts to guide them towards making good life choices.  Police superintendent Garry McCarthy works to keep the peace as the school districts are reshaped, and drills his officers in community policing to address a wave of violence that has captivated national headlines and threatens to rob the city of some of its most promising youth.
Among Chicago's celebrated citizens, the series introduces viewers to up and coming performer Chance the Rapper, entrepreneur Billy Dec, acclaimed chef/restaurateur Grant Achatz, child schools activist Asean Johnson, and Chicago Teachers Union president Karen Lewis.  Chicago Symphony Orchestra maestro Riccardo Muti, investment executive Mellody Hobson, the rapper Common, former Chicago Mayor Richard M. Daley, and NBA stars Dwayne Wade and Isaiah Thomas offer their unforgettable perspectives on their beloved Chicago.
In the days leading up to the premiere, CNN will offer excerpts of this exceptional series and articles related to the critical issues central to the series that reflect similar debates across the country at CNN.com.  Personal iReport stories submitted to CNN, and curated from Instagram users, tagged with #mychicagoland will explore what this remarkable city has meant to people who love Chicago.
Throughout the series run, users will be able to learn about the production from producers of CHICAGOLAND, interact with the CNN Original Series team, and engage with people featured in the series via social media.  Users of Facebook and Twitter can join the real-time conversations on the themes explored each week via CNN's Facebook page and via Twitter at @CNNOrigSeries by tagging comments and questions with #Chicagoland.
About Sundance Productions
Launched and founded in 2012 by Robert Redford and Laura Michalchyshyn, Sundance Productions develops and produces innovative, compelling television content for linear and digital platforms in the U.S. and around the world.  Sundance Productions partners with leading story-tellers, directors, and producers for the production of authentic tentpole series and specials across all platforms.
About Brick City TV
BRICK CITY TV is the production company of multi-award winning filmmakers Marc Levin and Mark Benjamin.  It was founded in 2008 to create the Peabody Award-winning and Emmy-nominated series Brick City and continuing with Chicagoland.  Drawing from documentary, reality, and news, Brick City TV has established itself as a truly innovative non-fiction storyteller.
About CNN Originals and CNN Worldwide
CNN develops original content through strategic partnerships and commissioned productions for television.  Amy Entelis, senior vice president of talent and content development for CNN Worldwide, and Vinnie Malhotra, senior vice president of development and acquisitions for CNN Worldwide, oversee the acquisition strategy of documentaries for CNN.  Malhotra manages the day-to-day operations and works directly with filmmakers to develop original projects.
CNN Worldwide is a portfolio of two dozen news and information services across cable, satellite, radio, wireless devices and the Internet in more than 200 countries and territories worldwide. Domestically, CNN reaches more individuals on television, the web and mobile devices than any other cable TV news organization in the United States; internationally, CNN is the most widely distributed news channel reaching more than 271 million households abroad; and CNN Digital is a top network for online news, mobile news and social media. Additionally, CNN Newsource is the world's most extensively utilized news service partnering with hundreds of local and international news organizations around the world. CNN is division of Turner Broadcasting System, Inc., a Time Warner Company.
 -30-