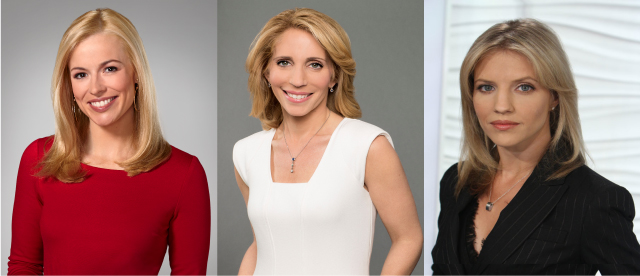 Brianna Keilar
February 7th, 2014
Michelle Kosinski Joins CNN as White House Correspondent; Bash and Brown Take on New Roles as the 2014 and 2016 Campaigns Approach
Michelle Kosinski has been named CNN White House correspondent, it was announced today by Sam Feist, CNN senior vice president and Washington bureau chief.  Kosinski will join senior White House correspondent Jim Acosta as CNN's on-air team at 1600 Pennsylvania Avenue.  In addition, Dana Bash and Pamela Brown have been given new responsibilities in Washington.  As previously announced, Brianna Keilar has been named senior political correspondent and Suzanne Malveaux returns to the nation's capital as national correspondent.
"We have put together a powerhouse team of outstanding journalists whose reporting is second to none," said Feist. "With Michelle, Dana, Pamela, Brianna and Suzanne, as well as our large roster of accomplished journalists, CNN is positioned to deliver the most in-depth, high caliber and informative political coverage anywhere."
Michelle Kosinski joins CNN from NBC News as White House correspondent this month.  Kosinski's vast experience covering both domestic and international affairs will be particularly valuable as she covers the administration. While at NBC, she covered a range of international and national stories for the network, including the unrest in Afghanistan, Russian politics and issues, the death of Nelson Mandela, the assassination of Benazir Bhutto, terrorist threats and attacks in London, Glasgow and Germany, and the aftermath of Hurricane Katrina. Kosinski was also instrumental to NBC's Emmy-Award winning election night coverage in 2008. Prior to her work at NBC News, Kosinski received an Emmy award for her reporting on immigration issues for WTVJ-NBC 6 in Miami. Kosinski earned Bachelor's and Master's degrees from the Medill School of Journalism at Northwestern University in Chicago.
Dana Bash, chief congressional correspondent, who continues to break numerous stories while covering Congress, will also serve as the network's lead reporter covering the Republican field of 2016 presidential hopefuls. Bash has covered Congress and presidential campaigns for more than a decade, and is a three-time honoree of the prestigious Dirksen Award, as well as the Joan S. Barone Award for excellence in congressional reporting.  In 2004, Bash extensively covered the George W. Bush re-election campaign from start to finish.  In 2008, she covered and interviewed the field of Republican contenders on the campaign trail and was CNN's primary reporter on John McCain's presidential campaign after he clinched the GOP nomination, contributing to the network's 2008 Peabody Award.  She was a key player in CNN's America's Choice 2012 election coverage, reporting from the field and inside vote counting centers across the country on primary and caucus nights. Bash was also pivotal to CNN's Emmy-Award winning election night coverage in 2012.
Pamela Brown, who has reported extensively for "New Day" and has also covered important stories across the network, has been named CNN's new Justice correspondent. Since joining CNN in 2013, she has covered major breaking news stories, including the Boston marathon attacks, the Cleveland kidnappings, and the Oklahoma tornadoes. In Brown's new role, she'll cover crime and justice issues, including law enforcement stories and Supreme Court cases. She began her career at ABC7/WJLA-TV and NewsChannel8 in Washington, D.C., where she became a Sunday evening anchor and an Emmy-nominated special projects reporter covering several national and international stories.  Brown has generated several reports on the widespread problem of human sex trafficking in the U.S. and abroad, and local police are now presenting her exclusive investigative reports at human trafficking conferences and schools to help educate students, teachers and the community on the crisis. Her reporting also helped lead to the arrest and conviction of a suspected child pornographer.  Brown succeeds Joe Johns, who was recently promoted to senior Washington correspondent. She begins her new assignment next month.
CNN Worldwide is a portfolio of two dozen news and information services across cable, satellite, radio, wireless devices and the Internet in more than 200 countries and territories worldwide. Domestically, CNN reaches more individuals on television, the web and mobile devices than any other cable TV news organization in the United States; internationally, CNN is the most widely distributed news channel reaching more than 271 million households abroad; and CNN Digital is a top network for online news, mobile news and social media. Additionally, CNN Newsource is the world's most extensively utilized news service partnering with hundreds of local and international news organizations around the world. CNN is division of Turner Broadcasting System, Inc., a Time Warner Company.
-30-