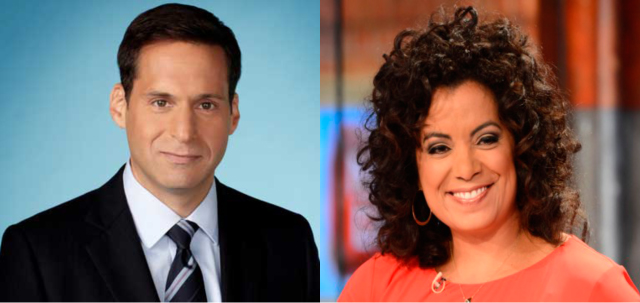 Michaela Pereira
January 17th, 2014
John Berman and Michaela Pereira To Co-Anchor CNN's 11 a.m. Hour
CNN today announced changes to its weekday programming lineup. Starting Monday, February 10, 2014, John Berman and Michaela Pereira will co-anchor CNN's 11 a.m. (ET) hour of dayside programming.  Berman and Pereira will continue to anchor "Early Start" and "New Day," respectively.  Pereira joined the network last year with the launch of "New Day," while Berman joined in 2012, and has covered several national news stories including the Boston Marathon Bombing and the deadly tornadoes in Oklahoma.
"Legal View with Ashleigh Banfield," which examines national news through a legal lens, will move from 11 a.m. to 12 p.m. (ET) for the hour.
CNN's award-winning lead political anchor Wolf Blitzer will continue to anchor the 1 p.m. (ET) hour, "Wolf," with a focus on politics, breaking news and international news.  He will also continue to anchor "The Situation Room with Wolf Blitzer" weekdays from 5 – 6:30 p.m. (ET). Carol Costello will continue to anchor 9 – 11 a.m. (ET) and Brooke Baldwin will continue to anchor 2 – 4 p.m. (ET).
Award-winning anchor and correspondent Suzanne Malveaux will return to her journalism roots as CNN's national correspondent covering politics, national news, and international current events. For more than 10 years, she covered the White House, including Presidents Bill Clinton, George W. Bush and Barack Obama, and as well as their travels across Europe, Africa, The Balkans, Latin America, Southeast Asia, Australia and the Middle East.  Malveaux's return to Washington, D.C., allows her to better care for her mother, who suffers from ALS.  Malveaux chronicled her mother's battle against the disease in a series of CNN reports last year ('My Mother's Journey with ALS').
Michael Holmes will return full-time to CNN International and continue to anchor "International Desk," which airs weekdays at 10 a.m. (ET).  Holmes has spent much of his award-winning career covering the world's hotspots, and is currently on assignment in Baghdad, Iraq, where he has covered the war from the very beginning.
Beginning Feb. 10, CNN's weekday anchor schedule will be:
9 – 11 a.m.                  Carol Costello
11 a.m. – 12 p.m.        John Berman and Michaela Pereira
12 – 1 p.m.                  Ashleigh Banfield
1 – 2 p.m.                    Wolf Blitzer
2 – 4 p.m.                    Brooke Baldwin
About CNN
CNN Worldwide is a portfolio of two dozen news and information services across cable, satellite, radio, wireless devices and the Internet in more than 200 countries and territories worldwide. Domestically, CNN reaches more individuals on television, the web and mobile devices than any other cable TV news organization in the United States; internationally, CNN is the most widely distributed news channel reaching more than 271 million households abroad; and CNN Digital is a top network for online news, mobile news and social media. Additionally, CNN Newsource is the world's most extensively utilized news service partnering with hundreds of local and international news organizations around the world. CNN is division of Turner Broadcasting System, Inc., a Time Warner Company.
###
CONTACTS:
Bridget Leininger       bridget.leininger@turner.com  404.827.1621
Edie Emery                 edie.emery@turner.com                      202.898.7657