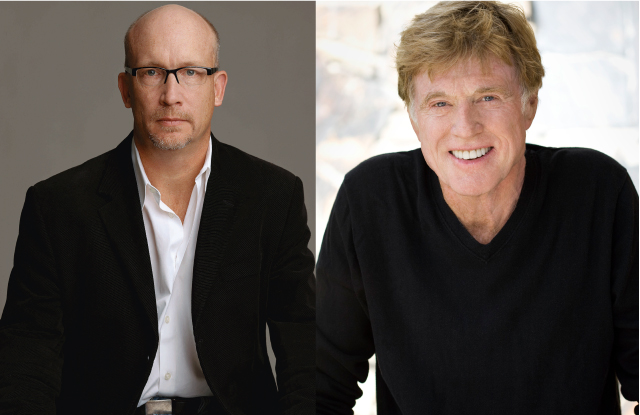 Death Row Stories
January 13th, 2014
New Original Series 'DEATH ROW STORIES' with Executive Producers Alex Gibney and Robert Redford
Jigsaw Productions and Sundance Productions collaborate with CNN Originals for series about America's most compelling capital murder cases – Academy Award®-winning actress Susan Sarandon will narrate
CNN president Jeff Zucker announced that the network will collaborate with Academy Award®-winning directors Alex Gibney (Taxi to the Dark Side) and Robert Redford (ORDINARY PEOPLE) on an eight-part original series, DEATH ROW STORIES.  Academy Award®-winning actress Susan Sarandon (DEAD MAN WALKING) will narrate.  Robert Redford and Laura Michalchyshyn are executive producers for Sundance Productions and Alex Gibney, Dave Snyder, Stacey Offman, and Brad Hebert are executive producers for Jigsaw Productions.
In making the announcement at the 2014 Winter Television Critics' Association tour in Pasadena, Calif., Zucker added, "We are thrilled to collaborate with this award-winning team of filmmakers on such a powerful and thought-provoking series – and to bring a second extraordinary series from the Sundance Productions team to CNN."
Each episode of DEATH ROW STORIES will unravel a different capital murder case that has twists and turns worthy of a crime thriller.  All of these stories are true, and call into question the myriad of beliefs about the death penalty and the American justice system itself.  Susan Sarandon, whose Oscar honor was awarded for her powerfully moving portrayal of the Louisiana-based Catholic nun Sister Helen Prejean, who ministers to death row inmates and advocates for the abolition of capital punishment, will narrate each episode in the series.
Actor/director Robert Redford (who has won two Academy Awards® and is nominated for a Golden Globe Award this year for his mesmerizing performance in ALL IS LOST) said, on the occasion of the announcement: "This series is about the search for justice and truth, we are pleased to be working with Alex Gibney to tell these important stories and give a voice to these cases."
Director Alex Gibney said, "The series provides stark examples of the struggle between the powerful and the powerless.  The stakes – life or death – couldn't be higher."
The first episode of DEATH ROW STORIES will debut on Sunday, Mar. 9, and explores how Edward Lee Elmore, a 23-year-old African-American handyman, was charged with the murder of a well-to-do white woman in Greenwood, S.C., in 1982.  The jury spent less than three hours deliberating before finding Elmore guilty of capital murder.  It was not until a legal intern named Diana Holt investigated his case for the defense team that startling new evidence of his innocence began to emerge.  The episode follows Holt and Elmore as the defense team embarks on a roller coaster ride through the criminal justice system, discovering negligence and cover-ups all along the way.
This is the second partnership between CNN and Sundance Productions.  The first is CHICAGOLAND, an eight-part series exploring the people and politics of this quintessential American city, produced in partnership with BCTV.   CNN is also in partnership with Jigsaw on a movie for CNN Films, the network's film unit specializing in feature-length documentaries.
About Jigsaw Productions
Jigsaw Productions is home to director Alex Gibney, one of the most important and prolific documentary filmmakers working today.  As such, the company has produced some of the most acclaimed documentary films in recent years, including the Academy Award®-winning TAXI TO THE DARK SIDE, the Academy Award®-nominated ENRON: THE SMARTEST GUYS IN THE ROOM, the multiple Emmy® Award-winning MEA MAXIMA CULPA: SILENCE IN THE HOUSE OF GOD, and Showtime's Emmy®-winning HISTORY OF THE EAGLES.  The Sundance-premiering WE STEAL SECRETS: THE STORY OF WIKILEAKS, and Gibney's explosive film about Lance Armstrong's long fall from grace, THE ARMSTRONG LIE, have both received "Best Documentary" nominations at this year's BAFTA Awards.
About Sundance Productions
Launched and founded in 2012 by Robert Redford and Laura Michalchyshyn, Sundance Productions develops and produces innovative, compelling television content for linear and digital platforms in the U.S. and around the world.  Sundance Productions partners with leading story-tellers, directors, and producers for the production of authentic tentpole series and specials across all platforms.
About CNN Originals and CNN Worldwide
CNN develops original content through strategic partnerships and commissioned productions for television.  Amy Entelis, senior vice president of talent and content development for CNN Worldwide, and Vinnie Malhotra, senior vice president of development and acquisitions for CNN Worldwide, oversee the acquisition strategy of documentaries for CNN.  Malhotra manages the day-to-day operations and works directly with filmmakers to develop original projects.
CNN Worldwide is a portfolio of two dozen news and information services across cable, satellite, radio, wireless devices and the Internet in more than 200 countries and territories worldwide. Domestically, CNN reaches more individuals on television, the web and mobile devices than any other cable TV news organization in the United States; internationally, CNN is the most widely distributed news channel reaching more than 271 million households abroad; and CNN Digital is a top network for online news, mobile news and social media. Additionally, CNN Newsource is the world's most extensively utilized news service partnering with hundreds of local and international news organizations around the world. CNN is division of Turner Broadcasting System, Inc., a Time Warner Company.
-30-