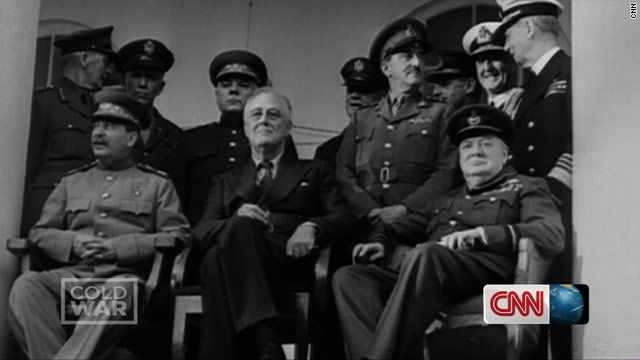 CNN International
January 2nd, 2014
COLD WAR Series Returns to CNN
CNN today announced the return of acclaimed series COLD WAR, the critical exploration of the nearly half-century long military and ideological conflict between the United States and the Soviet Union. In a year which marks the 25th anniversary of the fall of the Berlin Wall, COLD WAR takes viewers on a journey through the most dramatic moments in modern history, revealing how these events changed the face of Europe and continue to define our world today.
"COLD WAR is an epic series that captures the dynamics of one of the most important eras of recent times," said Mike McCarthy, senior vice president of programming for CNN International. "We are thrilled to offer viewers one of CNN's most comprehensive and informative productions starting this January."

Spanning 24 one-hour episodes, COLD WAR begins with the rise of the Iron Curtain and follows the flash points and global confrontations leading up to the fall of the Berlin Wall and the eventual collapse of the Soviet Union. More than 500 eyewitnesses and participants contributed to this historical narrative including a number of world leaders and notable figures like Mikhail Gorbachev, George H.W. Bush, Fidel Castro, Henry Kissinger, Robert McNamara, Sergei Khrushchev, Pierre Salinger, Eugene McCarthy and Jimmy Carter.
Online at www.CNN.com/ColdWar users will be able to watch videos from the series as well as view iconic Cold War speeches. The page will also include articles about how the world has changed following the turbulent times in the second half of the twentieth century, and what issues still resonate in the present day.
COLD WAR is narrated by Sir Kenneth Branagh and executive produced by award-winning filmmaker Jeremy Isaacs and former CNN executive Pat Mitchell.
The first episode of COLD WAR premieres on CNN International Saturday, January 4 at 2100 ET. The 24-episode series will air every other Saturday following the premiere, with the final two episodes airing November 1 and 8.
About CNN International
CNN's portfolio of news and information services is available in five different languages across all major TV, internet and mobile platforms reaching more than 375 million households around the globe. CNN International, awarded "News Channel of the Year" by the Royal Television Society in March 2013 and "Cable & Satellite Channel of the Year" at the 2013 Asian Television Awards, is the number one international TV news channel according to all major media surveys across Europe, the Middle East and Africa, the Asia Pacific region and Latin America. The CNN digital network is consistently one of the top news and current affairs destination on the web. CNN has 45 editorial offices and more than 1,100 affiliates worldwide through CNN Newsource. CNN International is part of Turner Broadcasting System, Inc., a Time Warner company.