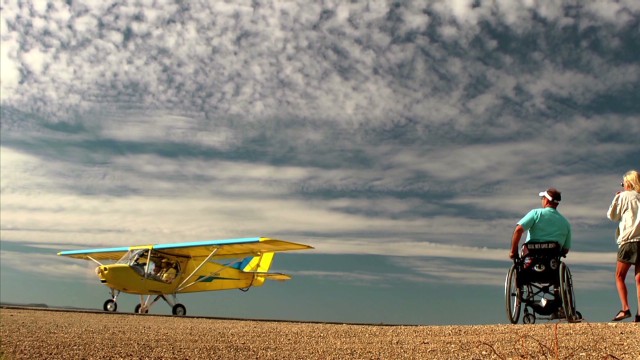 CNN Special Programming & Documentaries
December 26th, 2013
CNN FILMS: SOLE SURVIVOR – Survivors Share What Happens After Their Rescues
Film screening at Time Warner Center in January with Psychology Today magazine, Followed by Broadcast Premiere
There have been 14 large airplane crashes with a lone survivor in the history of commercial aviation.   CNN FILMS: SOLE SURVIVOR explores the complex emotional aftermath experienced by survivors of major aviation disasters.  The film is written and directed by Ky Dickens, executive produced by Susan Aurinko, and produced by Amy McIntyre and Alexis Jaworski.  SOLE SURVIVOR will debut for the first time ever on global television on CNN/U.S. on Thursday, Jan. 9, 2014, airing at 9:00pm, 11:00pm, and 2:00am.  The film will encore on Sunday, Jan. 12, 2014, at the same broadcast times.  All times Eastern.
At the age of only 17, George Lamson, Jr. was the sole survivor of Galaxy Airlines flight 203 after it crashed near Reno, NV, which also killed his father along with the other souls on board the aircraft.  Nearly three decades later, Lamson has memorized the names of the other 13 sole survivors.  The film, in part, follows Lamson's journey to meet those that he can, connecting with some in the community of sole survives that he now describes as feeling like family, and sharing in their profound expressions of loss.
Dickens understands well the complicated emotional geography explored in the documentary.  As a young adult, she became a survivor herself when she traded places with a friend who, moments later, died in a car accident.  In making the film, Dickens sought to "put a face on survivorship" – revealing the social, spiritual, and psychological aftermath experienced by survivors of aircraft disasters, many of whom remain deeply traumatized by survivor's guilt.
Lamson writes moving letters to each survivor, learning how each one has responded to their very singular experiences.  Each survivor has had a unique journey towards healing, and most have never been interviewed before their participation in this film, including Ceclia Cichan, who was only four years old at the time of her flight's crash.  Cichan describes her vivid memories of loneliness during her extended recovery in the hospital, and how she has sometimes coped by not thinking of the accident that she survived.
Comair first officer Jim Polehinke describes the depression and self-medication he experienced following the crash of the flight he co-piloted.  Polehinke's struggles with survivor's guilt are reflected in the conflicting emotions of the family members left behind by the dead, particularly following the National Transportation and Safety Board's hearing, that determined the probable cause of the accident to be pilot error.
SOLE SURVIVOR also includes moving interviews with family members of some of the other 13 survivors, as they discuss how their loved ones have changed since surviving their crashes.  The filmmakers also interview family members of those who were lost in the disasters.  They discuss how their lives suddenly changed after learning of the crashes that abruptly ended their loved ones lives – and how they have coped with their tragic losses.
CNN Films will partner with Psychology Today for a press screening of SOLE SURVIVOR at Time Warner Center in January to be moderated by CNN's award-winning senior medical correspondent Elizabeth Cohen.
During the telecast, filmmaker Ky Dickens, CNN Films, and others associated with the documentary, will offer behind-the-scenes commentary and respond to users' questions about the film via social media, by using the hashtag #SoleSurvivorFilm.  A live social blog for SOLE SURVIVOR will capture and curate the real-time conversations across multiple social platforms (including Twitter via @CNNFilms and Facebook), powered by ScribbleLive.  Also online, users may also view excerpts from the film, discover more about major aviation disasters around the world, and learn more about the survivors whose stories are featured in SOLE SURVIVOR, by visiting www.CNN.com/solesurvivor.
About CNN Films
CNN Films brings documentaries beyond the small screen by developing strategic partnerships to leverage distribution opportunities at film festivals and in theaters.  Amy Entelis, senior vice president of talent and content development for CNN Worldwide, and Vinnie Malhotra, senior vice president of development and acquisitions for CNN Worldwide, oversee the acquisition strategy of documentaries for CNN Films.  Malhotra manages the day-to-day operation of CNN Films, and works directly with filmmakers to develop original projects.
About CNN
CNN Worldwide is a portfolio of two dozen news and information services across cable, satellite, radio, wireless devices and the Internet in more than 200 countries and territories worldwide. Domestically, CNN reaches more individuals on television, the web and mobile devices than any other cable TV news organization in the United States; internationally, CNN is the most widely distributed news channel reaching more than 271 million households abroad; and CNN Digital is a top network for online news, mobile news and social media.  Additionally, CNN Newsource is the world's most extensively utilized news service partnering with hundreds of local and international news organizations around the world. CNN is division of Turner Broadcasting System, Inc., a Time Warner Company.
-30-