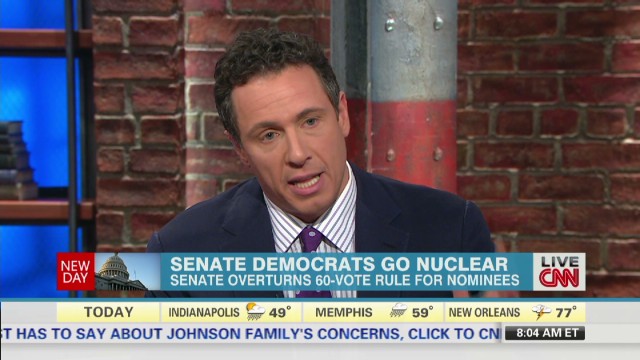 New Day
November 22nd, 2013
Sen. Kaine: Filibuster rule change won't "create ill will" or "make anything worse"
Senator Tim Kaine (D-VA) told "New Day" Anchor Chris Cuomo that changing the filibuster rules will improve how the Senate works.
Sen. Kaine said, "There's no reason that changing this to majority rule on appointments will create ill will.  State legislative bodies, Senates do this every day.  They find ways to work together, people of goodwill will find ways to work together here."
"I have worked in a legislative body that operated by majority rule and we worked together fine," Sen. Kaine said. "This will not make anything worse.  You can work together in a majority rule situation, just like you can with filibusters, holds and clotures. I actually believe that the Senate rules were impeding us working together. And look, the Senate this year has passed historic immigration reform.  We passed a historic Marketplace Fairness Act last week, we passed the historic bill that guarantee LGBT Americans couldn't be discriminated against in the workplace. The Senate is doing things.  We are reaching across the aisle and solving problems.  This will not change that in one respect." 
"New Day" airs weekday mornings from 6-9 a.m. ET on CNN.