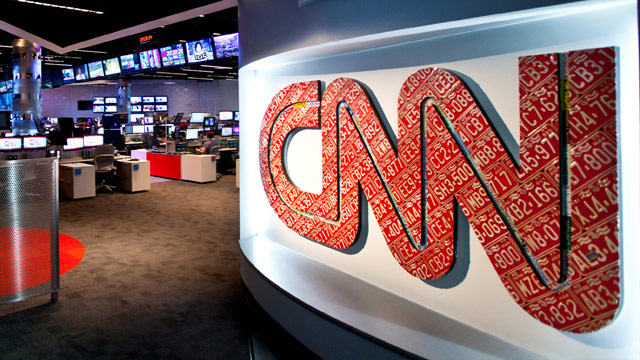 CNNI Press Releases
November 20th, 2013
CNN SCORES BIGGEST MONTH FOR MOBILE NEWS IN HISTORY; REMAINS #1
Network Tops Closest Mobile Competitor by 47%, Maintains Lead in Desktop
With 70 million unique visitors and 1.8 billion page views in October, the CNN Digital Network maintained in desktop traffic its lead over HPMG News and NBC News Digital for the month.  CNN Digital's mobile platforms posted in September the network's biggest month in history, attracting more than 32 million users and further solidifying CNN's position as the No. 1 mobile news source for 67 consecutive months. Key highlights reflecting the most current data available below: 
Massive Month for Mobile
•         Scoring its highest mobile traffic ever, CNN Digital Network clocked 32mm unique users in September, placing it a full 47% ahead of its closest competitor Yahoo-ABC News. 
CNN Digital Network (32 mm uniques)
o   47% higher than Yahoo-ABC News (22 mm)
o   54% higher than Fox News Digital (21 mm)
o   161% higher than Huffington Post (12 mm)
o   181% higher than Google News (11 mm)
o   221% higher than New York Times (10 mm)
o   295% higher than MSNBC News (8 mm)
•        The CNN Apps have been downloaded over 40 mm times through the end of October.
•       CNN mobile product consumption reached a record-high 960 mm page views in October.
Source: Nielsen Mobile MediaView, September 2013. App stores for downloads, thru October 2013. Adobe Reports & Analytics for mobile web page views; Bango for app page views. 
Powerful Digital Performance
•         CNN Politics reached 15 mm unique visitors for October, its highest since Nov. 2012. It ranked No. 1 in the Politics category, topping HuffPost Politics by 8%.   
•         CNN.com recorded 447 mm visits, up 3% from last month. It beat Yahoo! News for the third consecutive month, holding a 17% advantage over them in October.  
•         The CNN Network reached 70 mm unique visitors in October 2013, placing it behind only the combined Yahoo-ABC News rollup, with increases of 5% from the prior month and 3% over the previous year.  
CNN Digital Network (70 mm uniques)
o   14% over HPMG News (61 mm)
o   27% over NBC News Digital (55 mm)
o   57% over USAToday Sites (45 mm)
o   72% over CBS News  (41mm)
o   106% over New York Times Digital (34 mm)
o   114% over Fox News Digital (33 mm)
•         CNN Network generated 1.8B page views in October (up 2% from the previous month), placing behind only the Yahoo-ABC News rollup in the News and Information category.  
CNN Digital Network (1.8B page views)
o   36% greater than HPMG News (1.4B)
o   81% greater than CBS News (1B)
o   84% greater than Fox News Digital (1B)
o   99% greater than NBC News Digital (925 mm)
o   108% greater than USAToday Sites (885 mm)
o   184% greater than New York Times Digital (648 mm)
•         CNN.com served 89 mm video starts in September, gaining 1% from August and growing 20% from last year. It was more than 5 times larger than FoxNews.com.
Source(s): comScore Media Metrix, October 2013. Nielsen VideoCensus, September 2013, for video.
Most Social News Organization
•         CNN was #1 in social mentions for the month, beating both the TV news and digital news competition.
CNN Digital Network (410k mentions)
o 39% greater than Fox News (295k)
o 50% greater than NY Times (272k)
o 105% greater than Huff Post (200k)
o 191% greater than WSJ (141k)
o 194% greater than MSNBC (140k)
o 301% greater than ABC News (102k)
o 397% greater than NBC News (82K)
o 476% greater than CBS News (71k)
o 658% greater than Yahoo! News (54k)
Source: Sysomos October 2013
•         For the month of October, Blackfish was the most buzzed about cable news show on Twitter.
Source: Social Guide, October 2013
About CNN
CNN Worldwide, a division of Turner Broadcasting System, Inc., a Time Warner Company, is the most trusted source for news and information.  CNN Digital is one of the top destinations for online news, and for more than 6 consecutive years has remained No. 1 in mobile news with 25 million unique visitors per month. CNN's applications for iPhone, iPad, Nokia, Windows 7 phone, and Android phone & tablet have been downloaded more than 40 million times to date. With more than 11 million Facebook fans and more than 38 million Twitter followers, CNN is the most followed news organization on social media and has more followers than any other cable brand.