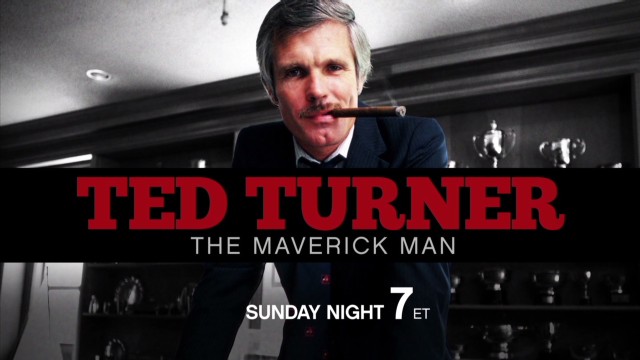 CNN Special Programming & Documentaries
November 13th, 2013
Ted Turner: The Maverick Man premieres Sunday at 7:00pmET on CNN/U.S.
CNN Profiles Founder on Sunday, Nov. 17 at 7:00pm & 1:00amET on CNN/U.S.
Special airs at 9:00pmET on CNN International
Innovator, visionary, trailblazer, humanitarian – Cable News Network founder, Ted Turner, is the subject of a 60-minute profile encompassing his remarkable life and achievements.  Reported by CNN anchor Wolf Blitzer, TED TURNER: THE MAVERICK MAN premieres Sunday, November 17 at 7:00pm and 1:00am on CNN/U.S. and at 9:00pm on CNN International.  All times Eastern.  The special explores his difficult early years, his extraordinary career, his legendary America's Cup win, Turner's historic humanitarian and cable television legacies – and everything in between.
Blitzer traveled to Atlanta, Georgia, and outside of Bozeman, Montana – to Turner's Flying D Ranch – where Turner works to preserve bison and land and water reserves for future generations – for the exclusive profile as Turner approaches his 75th birthday in 2013. During revealing interviews with Blitzer, Turner opens up about his successes and failures, both personal and in business.  Intimate interviews with Turner's five children and key figures in his life, including ex-wife Jane Fonda, President Jimmy Carter, broadcaster Larry King, MLB players Phil Niekro and Dale Murphy, and former U.S. Senator Sam Nunn, add additional layers to the complex portrait.
Ted Turner, Wolf Blizter, President Carter, Rhett Turner, Montana http://imftp.turner.com/User/ImageListing.aspx?f=n92b
"Ted Turner has done for the broadcast media industry what Steve Jobs and Bill Gates have done for technology and personal communications," Blitzer said. "From this in-depth look behind Ted's hard won achievements and biographical challenges, viewers will come to understand the man we know today."
The film features first-hand accounts from Turner on founding his first "Super Station" and rapidly transforming that venture into a global media company.  Of CNN's groundbreaking, enterprising broadcast coverage of the 1991 Iraq War, Turner reflected it as still the "greatest scoop in the history of journalism."
In the film, Fonda describes her first meeting – and being wooed by – her former husband and describes their enduring friendship and love for one another.  Carter describes how Turner hatched the idea to pursue Fonda – during a fly-fishing trip at Turner's Flying D ranch.
In addition, Nunn and Turner's children describe Turner's environmental passions and the motivation for his historic United Nations Foundation gift and other philanthropies.  Murphy and Niekro share memories of Turner's purchase of the Atlanta Braves Major League Baseball team – and the team's triumphant march from last to first place in the League.  Exclusive family videos and photos are also included in the hour.
Viewers can share in the second screen experience of the film by using #TedTurner to participate in the social media conversation via Twitter during the broadcast.
About Wolf Blitzer
Emmy award-wining reporter, Wolf Blitzer is the anchor of The Situation Room with Wolf Blitzer each weekday at 5:00p.m.ET on CNN.  In 1990, Blitzer was hired by Turner as the network's military affairs correspondent at the Pentagon.
About CNN
CNN Worldwide is a portfolio of two dozen news and information services across cable, satellite, radio, wireless devices and the Internet in more than 200 countries and territories worldwide. Domestically, CNN reaches more individuals on television, the web and mobile devices than any other cable TV news organization in the United States; internationally, CNN is the most widely distributed news channel reaching more than 271 million households abroad; and CNN Digital is a top network for online news, mobile news and social media. Additionally, CNN Newsource is the world's most extensively utilized news service partnering with hundreds of local and international news organizations around the world. CNN is division of Turner Broadcasting System, Inc., a Time Warner Company.
 ###