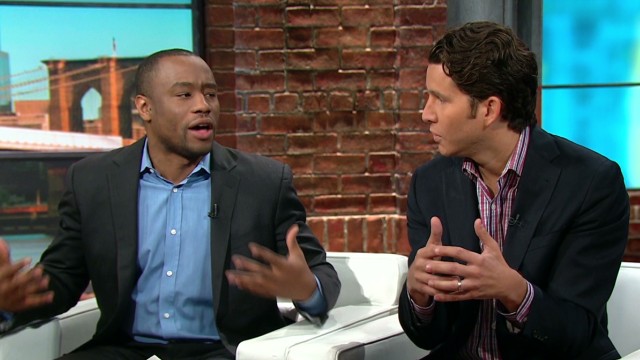 New Day
October 31st, 2013
Will Cain, Marc Lamont Hill debate Obamacare, minimum standards
On "New Day" with Anchor Chris Cuomo, CNN Commentator Will Cain and Huff Post Live Host Marc Lamont Hill debate Health and Human Services Secretary Kathleen Sebelius' congressional hearing on Obamacare.
Cain said, "There is a concerted effort right now to make this about Republicans. And that's why I'm telling you I think Republicans need to step back and let it play out."
On Obamacare's minimum coverage standards, Hill said, "It's not President Obama's arbitrary minimum standards. It's fairly in any objective standard of equality, reasonable healthcare…. It's not like Obama said, 'Oh, I don't want that one.'"
Cain responded, "Do you hear the arrogance in that statement? You are defining for the rest of America what minimum standards are."
"New Day" airs weekday mornings from 6-9 a.m. ET on CNN.
@NewDay
http://www.facebook.com/NewDayCNN
http://www.cnn.com/NewDay