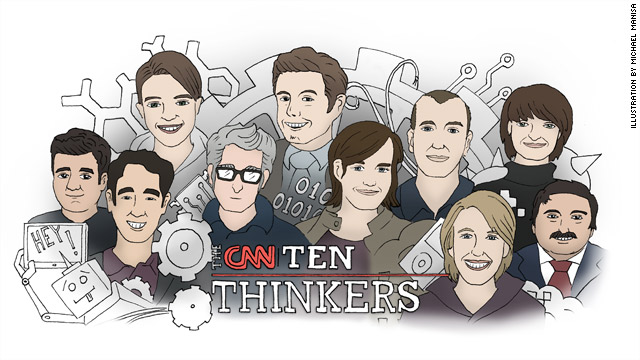 Digital
October 22nd, 2013
CNN Tech publishes part two of its 2013 series on innovation
CNN Tech continued its yearlong look at innovation in tech and related fields by publishing The CNN 10: Thinkers, honoring 10 visionaries whose ideas are shaping our future. These creative minds have shoved conventional wisdom aside and are changing the world with their insights and innovations in 3-D printing, online education, big data and other areas.
For more information about the individual lists and/or the series in general, follow @cnntech on Twitter or use the hashtag #cnnthinkers. The Thinkers project was developed and compiled by senior producer Brandon Griggs and writer/producers Doug Gross and Heather Kelly. It is also available on desktop and mobile at CNN.com/thinkers and in the Tech section of the CNN mobile apps for iPhone and iPad.
The Thinkers list comes on the heels of The CNN 10: Startups, which recognized 10 young companies that are shaking up the tech industry. In November, CNN Tech will publish The CNN 10: Gadgets, a list of  game-changing gadgets to watch. The series culminates in December with The CNN 10: Ideas, celebrating 2013's boldest and most impactful thinking across tech, science and related fields.