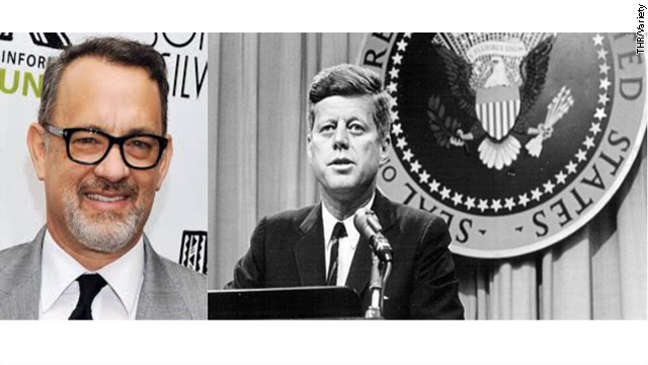 The Sixties
September 18th, 2013
CNN Collaborates With Tom Hanks' and Gary Goetzman's PLAYTONE for 'THE SIXTIES'
Original docuseries co-produced with Herzog & Company bows with a special presentation of "The Assassination of JFK" in November 2013
CNN, Playtone, and Herzog & Company are co-producing a provocative, sweeping 10-part documentary series that will explore perhaps the most transformative decade of the modern era.  The non-scripted series will be executive produced by multiple EMMY® Award-winning producers Tom Hanks and Gary Goetzman (HBO's John Adams and The Pacific), and EMMY® Award-winning producer Mark Herzog (History's Gettysburg) of Herzog & Company (HCO), as a CNN original series for CNN/U.S., it was announced today.
"From protests to war, to human rights, the Beatles, innovative technologies, and politics, the 1960s were an extraordinary era of consequential cultural and global change," said Jeff Zucker, president of CNN Worldwide.  "We are so pleased to partner with Tom, Gary, and HCO to bring this very special series to our audience.  Projects like this are emblematic of exactly the type of programming that we need more of, signifying a new direction and expanded sensibility at CNN."
THE SIXTIES will launch with a two-hour special episode, "The Assassination of President Kennedy (1963)," broadcast on CNN/U.S. in November 2013, and timed with the observance of the 50th anniversary of the assassination of President John F. Kennedy.  The inaugural episode will explore the key conclusions of the controversial Warren Commission, as well as the shocking impact of the assassination upon the nation, and upon American politics. 
The series will resume in 2014 with episodes about the events and people that shaped our history and character as a nation.  Episodes will focus on the indelible impact of music and technology of the era, drugs, "free love", and rock and roll.
Key moments of the era will be revealed and explored through archival newsreel footage, personal movies, and interviews with eyewitnesses to history.  Expert commentary from historians, including David McCullough, Robert Dallek, and Robert Caro, as well as recollections from people whose lives intersected with destiny, such as Dan Rather, Robert MacNeil, and others, will infuse new relevance to the cultural touchstones at the center of each episode.
About CNN
CNN develops original content through strategic partnerships and commissioned productions for television.  Amy Entelis, senior vice president of talent and content development for CNN Worldwide, and Vinnie Malhotra, senior vice president of development and acquisitions for CNN Worldwide, oversee the acquisition strategy of documentaries for CNN.  Malhotra manages the day-to-day operations and works directly with filmmakers to develop original projects.
CNN Worldwide is a portfolio of two dozen news and information services across cable, satellite, radio, wireless devices and the Internet in more than 200 countries and territories worldwide. Domestically, CNN reaches more individuals on television, the web and mobile devices than any other cable TV news organization in the United States; internationally, CNN is the most widely distributed news channel reaching more than 271 million households abroad; and CNN Digital is a top network for online news, mobile news and social media. Additionally, CNN Newsource is the world's most extensively utilized news service partnering with hundreds of local and international news organizations around the world. CNN is division of Turner Broadcasting System, Inc., a Time Warner Company.
-30-