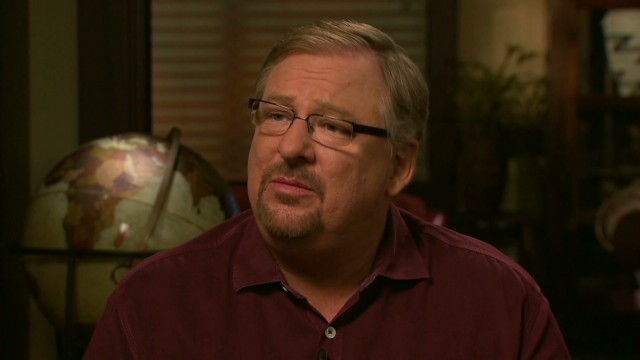 Piers Morgan
September 17th, 2013
Pastor Rick Warren on his late son: "Matthew was not afraid to die…he was afraid of pain"
Less than six months ago, well-known Pastor Rick Warren lost his son to a self-inflicted gunshot wound, an emotional and heartbreaking end to a life defined by battles with mental health.
Joined by his wife Kay, this evening Warren joins "Piers Morgan Live" for the couple's first media appearance since Matthew's passing, describing in great detail the demons their son battled:
"Matthew was not afraid to die. He was afraid of pain. I remember 10 years ago, when he was 17, he came to me sobbing," reveals Warren, offering an absolutely heart-wrenching story about his late son. "He said, 'daddy,' he said, 'it's really clear, I'm not going to get any better. You know, we've gone to the best doctors, the best hospitals, the best treatment therapists. Everything … prayer, everything you could imagine … good support.' And he says, 'it's real clear I'm not going to get any better, so why can't I just die.'"
Full interview airs tonight at 9pm ET.