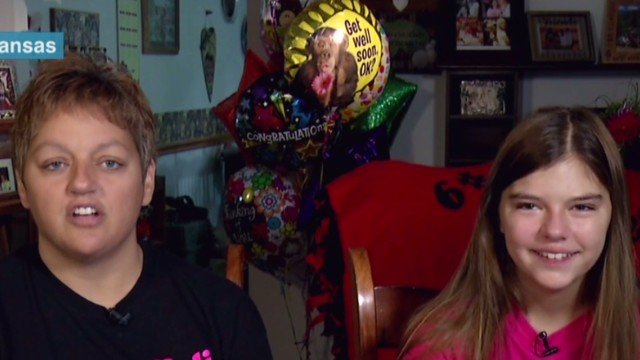 New Day
September 12th, 2013
Kali Hardig, brain-eating amoeba survivor, speaks to "New Day:" "Feels good to be home"
12-year-old Kali Hardig, the third person who has survived a rare infection caused by brain-eating amoebas, spoke to "New Day" Anchor Kate Bolduan in a live exclusive this morning about her recovery after contracting parasitic meningitis. She was joined by her mother Traci Hardig.
Kali said that it is "awesome to be home" and that she is feeling "good." The first thing she wanted to do when she got home was play with her dog Chloe, and her friends are "psyched" she's doing better. When Bolduan asked her what she thought about the attention, Kali answered with a smile, "I kind of like it." At the end of the interview, she thanked people for praying for her.
For more on this story, visit CNN.com: http://www.cnn.com/2013/09/12/health/arkansas-amoeba-survivor/index.html
"New Day" airs weekday mornings 6-9 a.m. on CNN.